Big Four Ice Caves, December 2001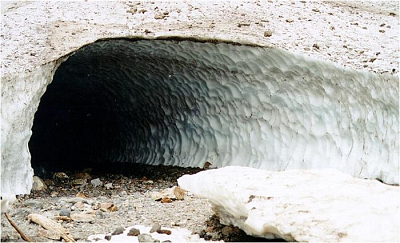 After some discussion on CascadeClimbers.com earlier that week regarding the ice conditions at the Big Four ice caves, Chris, Dave and myself were somewhat uncertain as to whether going out there would be worth the effort. Hoping that there would at least be a small wall of ice sufficient for us lowly ice climbers to practice on, we decided to go and check things out. Once there, we would become acquainted with fellow CC.com members Scott Harder, Bill Hemmen and Ryan (last name?) and together have one of our first ice climbing experiences.
The road was plowed about two miles from the trail head. We very much enjoyed walking through the thick snowmobile exhaust fumes on our way there. Avalanches slabbed off the sheer North Face of Big Four Mountain while we approached the caves. We hiked far to the right of the basin, away from where the majority of the avalanches were occuring and found some small sections of vertical and overhanging ice to climb. As the other party was setting up a top rope, a small slab released from the cliffs directly above and ran out in a gully a few feet away. Spooky! I setup a top rope on a vertical section of the face, adjacent to where Scott, Ryan and Bill were attempting to climb an overhanging wall. The overhang proved to be too difficult to ascend and the snow-ice too brittle, and so we all ended up climbing my top-rope.
Click
here
for photos.