Alpental Ice, March 2002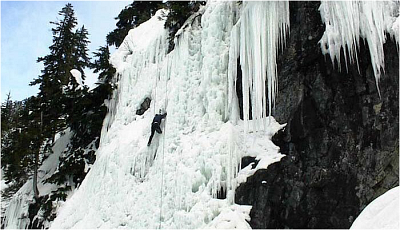 After bailing out of a planned climb of the North Twin Sister, Scott and friends decided to hike Mt. Persis, whereas I opted to take advantage of the last dump of the season and make turns in heavy Alpental pow. The snow was...well...heavy, but after a fresh wax it was all good. I wasn't expecting any climbable ice to be 'in' this late in the season and was suprised when I saw a couple of guys climbing the small ice flow to the left of the Alpental quad chair.
I called Scott later that evening and suggested that we give it a shot the next day. I would meet Scott later that next afternoon at the Granite Mountain trailhead and together with his friend John we drove up to the pass. I brought my AT gear with me and had to convince Scott and John who were without skis to just get on the damn chair. Without skis, or hassles for that matter, we all got on the chair and rode lazily to the top. I skied somewhat clumsily (for the first time in 10 years) down to the ice flow and waited for Scott and John to set up the top rope.
Scott's 60m rope barely reached the bottom of the route, and as one end of the rope was tangled and couldn't be reached I naturally delegated the rope retrieval task to Scott. I placed a screw in the ice for the belay and commenced climbing. I made it 2/3 of the way up on my first try before pumping-out. It was Scott's turn next. The ice was reasonably solid, but the steady drip coming down the rocks just next to us was a bit unsettling. Still, we all went back up for seconds. In the conditions we found, I'd rate the climbing as WI3+. All in all, it was a good experience...good enough for Scott, John and a couple others to return a few days later for another whack at the ice.
Click
here
to view photos.