North Twin Sister, April 2002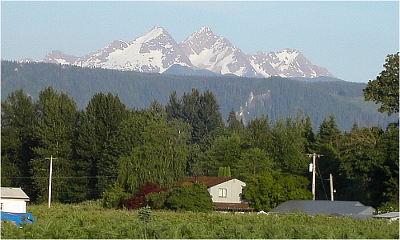 For most of the winter I tried lobbying my climbing partners to agree to an early season ascent of North Twin Sister. Finally by mid April my persistence paid off and we now had a relatively large 8-person team. With the prospect of improving weather for the weekend, we assembled at Aaron's residence on Lake Whatcom and prepared for an early start that following morning.
After a tasty BBQ, numerous beers and limited sleep, we embarked for the trailhead. Finding the trailhead/road can be confusing, so I suggest informing yourself accordingly prior to any North Twin outing. All I know is that we drove through the town of Acme and at some point turned off (right) onto a dusty gravel road. We continued down that road (ignoring the immediate left turn) for several miles. At the next intersection we again took the right (down sloping) spur and drove a short distance to where the road is gated. It is probably best not to cross the bridge and continue driving due to the high probability of the gate being locked upon your return. (
more...
)
Click
here
to view photos.