Observation Rock - North Face, October 2002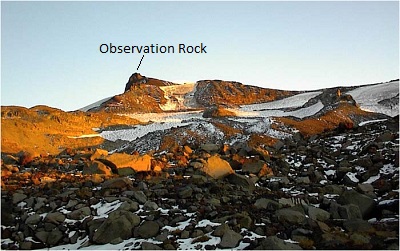 Scott and I departed for Observation Rock early on a Monday morning. With a persistent high pressure system prevailing over the Northwest, there was no better time than the present. In store for us, was a fun day of hiking on the northwestern side of Mount Rainier, and more importantly, a couple pitches of ice climbing without the commitment of a serious alpine ice outing. We arrived at the Mowich Lake Trailhead around 10am. There was a thin dusting of snow and ice on the ground in the parking area. The temperatures had clearly dipped well below freezing the night before and we hoped the cold temps would bode well for the ice conditions on the North Face. We started hiking towards Spray Park under sunny skies on a crisp but comfortable October morning.
After about 3 miles we reached Spray Park and were treated to some nice views of Mount Rainier. From this vantage point it is possible to see the North Face route. The trail meanders along the ridge top and disappeared under fresh snow. We traversed just right of the ridge on alternating heather, talus, and snow until reaching a large snowfield, at which point we stopped for lunch. After lunch, we geared up and traversed underneath the face until we were standing at the base of the climb. We heard voices and saw another party two thirds of the way up the face. Moments later, a couple baseball sized rocks whizzed by us from above. This was no place to hang out! (
more...
)
Click
here
to view photos.