Mount Assiniboine - North Ridge, August 2009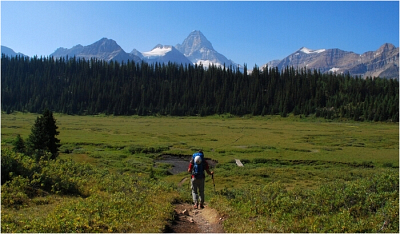 The iconic Matterhorn of the Canadian Rockies, Mount Assiniboine is a classic peak popular among climbers the world-over. I first heard the calling several years ago when Eric Hoffman and I intended to climb the peak during a 10-day stint in the Rockies and Selkirks of British Columbia. Unfortunately, reports suggested that conditions weren't favorable for an ascent of the North Ridge, as a late-August storm had plastered the peak with considerable amounts of fresh snow. Enter plan 'B'. Leaving Lake Louise, we pointed the car north on the Icefields Parkway and went on to climb Mount Athabasca instead.
Come August 2009, it seemed as if Eli and I were doomed to suffer a similar fate. A storm the week prior to our two-week trip in Canada once again blasted the top 1500 feet with new snow. Hoping to capitalize on the week's worth of forecasted sunshine and warmer temperatures in and around Kananaskis Country, we delayed our Canadian Rockies itinerary so as to allow time for some of the new snow to melt off. Now, after having burned through the first half of our trip gallivanting in the Coast Range, we felt conditions up on Assiniboine were about as good as they were going to get for us. With Eli's WRX packed to the gills, we departed North Vancouver for the long drive over to Lake Louise. (
more...
)
Click
here
to view photos.