Mount Baker - Easton Glacier, September 2001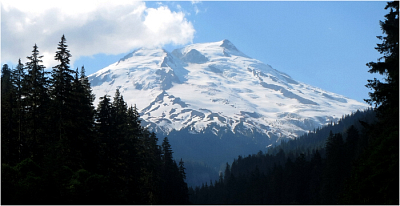 My prior attempt via the Coleman-Deming Route in March of 2001 was not too terribly successful. Not listening to my own better judgement, I gave in to Chris's persistence to continue driving up the access road, despite the very apparent glazing of ice on the pavement. Sure enough, the car lost traction and we found ourselves high-centered with the right wheels stuck in a ditch. Fortunately a couple of snowmobilers were able to pull us out with their truck several hours later. I parked farther down the road and started hiking to the trailhead under a moonlit sky. We finally called it a night at 3:00am (still about a half mile from the Heliotrope Ridge trailhead).
We awoke to low clouds, with only the occasional sucker-hole to tempt us. Things were not looking very promising and the snowfall only intensified. We sought the cover of some trees and discussed our options. Chris went so far as to dig out a bivy spot and hang up his prayer flags. As if I had any desire to spend a night out here. Hiking back down, both Chris and I had a close encounter with a rocky stream bed when we nearly slipped off the small foot bridge near the trailhead. Phew! That was a close call! After all that, I'd say the beer and pizza waiting for us at the North Fork Tavern were well deserved. I thoroughly punished myself on the fine selection of ales and had Chris drive my car home.
By September of 2001 I again found myself itching to climb Mt. Baker. Desperate for a partner, I randomly flipped through my phone list and happened to come across Andy's phone number. We ran into each other at the Fremont Octoberfest about a year ago and made plans (which never materialized until now) to go climbing together sometime. I called Andy and minutes later we were planning our upcoming weekend trip on Mount Baker. Fast forward to the day of, where we found ourselves establishing high camp at roughly 7000ft early on Saturday...after we were advised by an arrogant Alpine Ascents guide that there weren't any good tent sites where we were headed. Whatever. We killed time by drinking beer, taking naps and talking shit about guides who feel they own the mountain.
We awoke at 1:00am and were on the trail by 2:00am. A comfortable yet unsettling warm breeze was felt that morning...very warm in fact. Following what screwy directions we obtained from the guided group we passed on the way up, we got a little sidetracked and embarked on an hour-and-a-half detour. Having regained our bearings, we were the first to summit at 8:00am that morning. The climb was done under bright moonlight...didn't even need lights. We made it to the steaming crater just as the sun was rising above the horizon. We then climbed up the infamous Roman Wall onto the summit plateau followed by a long slog over to the bump that marks the summit proper. We savored superb views of Puget Sound, San Juan and Gulf Islands, Greater Vancouver, Mount Garibaldi, Mount Shuksan, much of the North Cascades and Mount Olympus off in the distance. Returning from the summit we noticed what appeared to be brownish-yellow discoloration on the edges of the glacier crevasses. Sulphur dust maybe? Oh and speaking of crevasses, those found on both the Easton and Demming glaciers are HUGE!
Click
here
to view.