Mount Baker - North Ridge, June 2003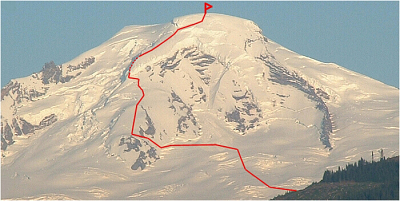 Corey, Dan, Scott and myself climbed the North Ridge of Mount Baker in a single day push starting from the Heliotrope Ridge Trailhead. Scott and I also schlepped our board/skis along so that we could enjoy a rapid and enjoyable descent back down the Coleman Glacier. With over 7000ft of gain from trailhead to summit, we had our work cut out for us and therefore planned on an early morning start (12:30am). After a few hours of attempted car-sleeping at the trailhead, the alarms started beeping and it was time for us to go. We made good time hiking up through forest to the toe of the Coleman Glacier. We stopped to rope-up here before continuing. In the early glow of sunrise we walked up the firm snow of the glacier to reach a broad area of lower-angled slopes. There a decision had to be made. We could proceed upwards, towards the Colfax Peak-Baker saddle and then traverse left below the Roman Nose and Coleman Headwall towards the North Ridge (easier crevasse navigation but with some elevation loss). Alternatively, we could go left then descend a couple hundred feet onto the Coleman Glacier proper and find a line through a vast maze of crevasses that would lead to the base of the North Ridge ice cliff. We chose the latter option as it appeared more direct and recent reports suggested glacier navigation wasn't yet an issue.
In no time, we located a boot path through the glacier and followed it as it wound over snow bridges and around enormous crevasses. The snow was very firm, perfect for cramponing, and all snow bridges were well frozen. We continued traversing upwards on a steep and exposed slope towards a relatively level bench on the lower arm of the North Ridge. We rested here, eating breakfast (it was 7am) and enjoying the warming sunshine. We all contemplated the conditions on the ice cliff, a seemingly short distance above us. After about 30 minutes we continued up towards the ice cliff. Dan and Corey headed up first, while Scott and I followed some distance behind. Damn! It was a slow grind up that slope. Already I was pooped, and the hours of constant traversing and booting up steep slopes in Randonee boots were really doing a number on my feet. Scott shared my sentiments. Packing our board/skis up on our backs wasn't helping either. Oh well, just suck it up, I told myself. (
more...
)
Click
here
to view photos.