North Chiwaukum Tour - Lake Ethel to Whitepine Creek, December 2004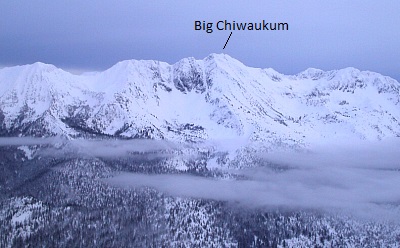 With time to burn between Christmas and New Years, Tod and I embarked on another adventure deep in a remote corner of the Central Cascades. Having been in the Chiwaukums before (Icicle Creek to Whitepine Creek via Snowgrass Mountain), Tod was quite familiar with the area. This time, however, we'd approach the range from the north, via Lake Ethel, and traverse the northern crest of the Chiwaukums as far as possible before being forced to descend into Larch Lake basin. The original itinerary called for the summit of Big Chiwaukum via a shallow saddle directly above and south of Cup Lake. We'd then tour up Chiwaukum's east facing remnant glaciers (an area missed on Tod's previous tour), scramble over the summit and ride down the west facing slopes - touted to be very amenable to skiing. We'd complete the loop by riding and hiking out Whitepine and Whitehorse Creek Trails.
That was the original plan, but conditions on the second day of our three-day tour (the day we were to summit Big Chiwaukum) forced us to cut the loop short. Plagued with poor visibility, occasionally heavy snowfall and slow travel through deep, fresh powder, just making it to Cup Lake was an accomplishment. Foregoing the summit, we decided to play it safe and cross over the crest via Deadhorse Pass. We'd make camp in a large, flat basin about 500ft below the pass and complete the loop the following day. Thanks to the whiteout, we unknowingly missed the pass entirely and gained the windy crest just north northeast of Pt. 7534. In the rapidly waning daylight we then made a blind descent into unfamiliar terrain. We'd only know where we went wrong that next day after the weather cleared somewhat and we could reconcile terrain features with our topo maps. (
more...
)
Click
here
to view photos.