Big Chiwaukum, Feb. 2005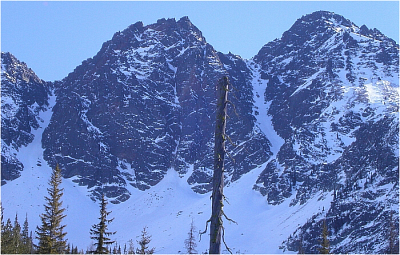 Determined to ski Big Chiwaukum's West Slope, I duped myself (and Eric) into thinking there'd be enough snow out there this winter for a nice long descent from the summit. I couldn't have been further from the truth. Also, in the spirit of full disclosure, Eric and I actually hiked overnight gear several miles up the trail before making camp for the night and continuing on the following morning. We found the approach a bit long for relatively little skiing.
Though we managed to ski some enjoyable hoar frost powder on low-angle slopes beneath Big Chiwaukum, the steeper lines for which this tour is apparently known for lacked adequate coverage to be skied. Looking back, I'm not sure that I even converted my split into 'ride mode' and just farted around on skis the entire time instead.
Click
here
for photos.