Bryan Butte - Southeast Route via Summer Blossom Trail, December 2002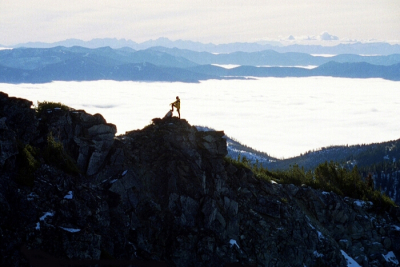 Bent on summiting his last remaining peak of the "top 100" in the Chelan/Sawtooth region, Paul proposed that we go climb Mount Bigelow. Though not necessarily a "top 100" disciple myself, I was somewhat interested in a trip to Mount Bigelow purely because I had never been in that remote corner of the Cascades. What also factored into my decision to go was the additional promise of seeing an actual rock glacier formation, and the nearby Hoodoo Peak, Star Peak and Oval Peak; which I heard Tom Sjolseth make frequent reference to this summer.
We estimated that it would take us somewhere in the neighborhood of three-and-a-half hours to make the drive out to Winthrop. The driving time, the 5 or 6 miles of hiking to reach the summit, and the limited daylight hours all necessitated an early start from home. It was Paul's turn to drive and in no time we found ourselves cruising down the North Cascades Highway towards Marblemount. It was also around this time that I made the unpleasant discovery that I wouldn't be able to enjoy the basic civilized comfort of heat in Paul's car. Paul dismissed the artic temperatures in his ice-box of a car while I wrapped myself in a blanket and donned my down jacket. The excitement was however far from over as we got pulled over for speeding just outside Winthrop, ironically only seconds after Paul mentioned how well patrolled this particular stretch of road was. Paul informed the officer that his speeding was a consequence of his desperate need to urinate (a lie), for which we were then given the grand escort by Winthrop's finest to a public restroom in town. Returning from the restroom, Paul then had to endure a detailed lecture and barrage of statistics from the officer concerning various speeding related accidents and fatal encounters with wildlife. We were then released with only a warning and continued on our way. (
more...
)
Click
here
for photos.