Chair Peak - Northeast Buttress, January 2003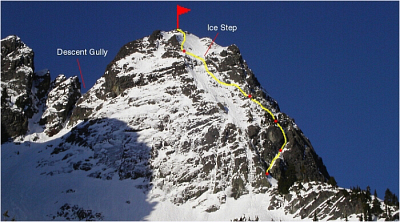 Scott and I attempted to climb Chair Peak's Northeast Buttress about a year prior to the climb described in this report. Having only recently met Scott while ice climbing at the Big Four Ice Caves a couple months earlier, the trip helped cement our partnership for many climbs to come. Together we ventured up into Chair Peak Basin and savored our first views of Pineapple Pass and The Tooth. Looking down from the low ridge beneath the Northeast Buttress, we also saw Snow Lake draped under a uniform blanket of snow. To make a long story short, due to unexpectedly soft snow conditions and difficulty crossing a bergschrund which spanned the lower North/Northeast Face of the peak, we reluctantly turned back. Back at the Alpental parking lot, Scott and I decided to wrap up the day climbing the snow walls that tower above the upper parking lot. Yup, we backed down from Chair Peak's NE Buttress only to climb "parking lot ice". Anyway, I didn't return to attempt Chair Peak again until January of the following year.
With some fresh snow earlier in the week, three or four days of clear and sunny weather, and a mostly stable snowpack, I felt the time was finally ripe to make another attempt on the Northeast Buttress. I found a willing partner in Tom, with whom I had climbed several peaks last summer. Tom, in turn invited Eric Hoffman whom I had first met in person up on Dome Peak's Itswoot Ridge. Approaching the peak now for a second time, we climbed steep snow to a small notch in the cliffs and within minutes found ourselves below Chair Peak's Northeast Buttress. It was our intention to climb the North Face, but the lack of snow and verglas were enough to turn us back. The initial gully pitch of the Northeast Buttress however, though lacking adequate snow coverage as well, appeared doable. (
more...
)
Click
here
to view photos.