Chiwawa Mountain - Lyman Glacier, August 2001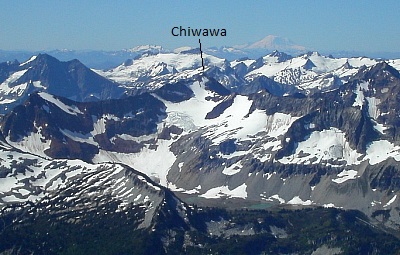 After being rained-out on a Friday night at Mt. Baker's Heliotrope Ridge Trailhead (the same weekend that a multiple-fatality crevasse fall on the Coleman-Demming route occurred) Nick and I decided to dry out and defaulted to our previously agreed-to backup plan to climb a peak on the east-side of the Cascade Crest instead.
Our departure was not without difficulty however. After draining a can of fix-a-flat into one of my deflating car tires the night before, I merely made it within a few miles of Bellingham that next morning before having the same tire go flat on me again. We quickly discovered that the donut wheel was practically flat as well. So, very slowly we drove to Bellingham and after some bitching I managed to secure a free replacement tire from the nice folks at Discount Tire. By then of course it was lunch time and we promptly proceeded to the nearest Pizza Hut and dined as if pizza were going out of style. Finally back on the road, we stopped once more for a few laps around the indoor go-cart course in Burlington. Nothing like a white-knuckled race around the go-cart track to snap out of a food coma, eh?
We finally reached Spider Meadow at dusk (seen here from the base of the small Spider Glacier the following morning). Oh, and forget the freeze-dried, on the menu that night was tortellini with a zesty red sauce courtesy of chef Nick Rhodes! The next morning We hiked up the Spider Glacier to Spider Pass and back down the other side. We cut left across some rocks to the flats of the lower Lyman Glacier and roped up. The slope was relatively low-angle but pitched up considerably as we approached the headwall. A Mountaineers group was doing some ice climbing above us. We skirted below them stepping carefully on chunks of ice and rock. Soon we were back on gentler snow slopes and worked our way around a few crevasses before reaching the exposed rock ridge above the glacier. We walked easily up the ridge, with some fun sections of easy class 3 scrambling.
We reached the summit a short time thereafter and ejoyed the great views in all directions. After a good rest we reluctantly left the summit area and started back down the way we came. Once back down below the icefall, we walked back across the relatively flat and un-crevassed lower Lyman Glacier to its eastern edge. We decided to stay another night and left early the next morning for some mountain biking at Devil's Gulch. All in all, not too shabby of a weekend despite striking out on Baker!
Click
here
to view photos.