Clark Mountain - Southeast Route, July 2008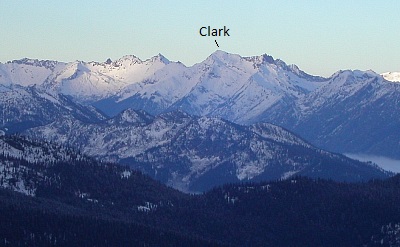 This trip was as much about the views as it was about tying-up loose ends. You see Scott and I attempted to climb Clark's Walrus Glacier in day several years ago, but a 'minor' navigational mishap, one that cost us a couple hours at least, and my having to be back in town no later than 9 pm ultimately spelled failure for us. We reached the glacier's edge and were literally out of time. That is to say, we had insufficient time to complete the glacier slog and remaining summit scramble. We however did have about an hour to lounge in the sun below the Southeast Peak, and so took advantage of the beautiful weather and great views and soaked-in some vitamin D.
Ever since that trip, however I've had this nagging itch to go back for the 360-degree view from Clark's summit. Granted, the Southeast Route I took this time can scarcely be considered a climb per se (ice axe/crampons never left my pack) and you may be wondering wherein this glorified hike lies the appeal, but I had a day to burn before the forecasted rain arrived and could think of nothing better to do solo. That said, it's nice to do a relaxing trip in the mountains for a change. And so 'relax' I did, at least to the extent that I am capable of. But first I had to fight my way through afternoon rush hour traffic, reaching the trailhead around 6 pm wondering if I'd make it up to camp below Boulder Pass before dark. (
more...
)
Click
here
to view photos.