Colchuk Glacier, May 2002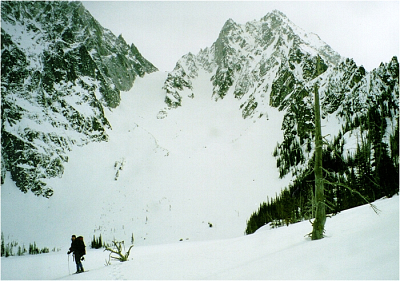 Agata, Scott and I spent a soggy weekend at Colchuk Lake, hoping the weather would improve enough to permit a short climb on Witches Tower followed by ski/snowboard descents from both Aasgard Pass and Colchuk Glacier. The weather never improved and so our ambitious plans were quashed, save for one desperate push up to Colchuk Col by yours truly for a partial whiteout descent of the glacier. The descent to the lake involved everything from powder, to hard-packed and finally corn. Hardly worth the two days hanging about camp at the lake hoping for the weather to improve...but anyway.
We salvaged what was left of the weekend by climbing rock in Icicle Canyon and in so doing kicked off a years-long obsession with springtime sport climbing in Leavenworth. Who knew?!
Click
here
for photos.