Gannett Peak - Gooseneck Ridge, August 2011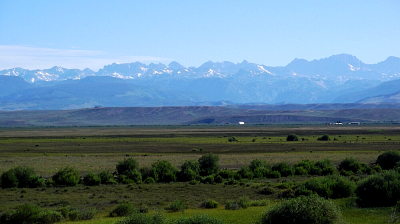 Recalling the good 'ol days of road trips past, I set forth to explore the Beartooth and Wind River mountain ranges. Specifically, I took a week off to bag the Montana and Wyoming state highpoints - Granite Peak and Gannett Peak. Each being well over 12,000ft in elevation, these oft-visited summits offer sweeping vistas over some of the more scenic mountainous areas of the lower 48 states. I proceeded to climb Gannett following success on Granite a couple days prior.
70 miles to the southeast of the iconic Grand Teton and situated in the heart of the Wind River Range stands 13,804-foot Gannett Peak. Gannett sits on the border between two large wilderness areas, the Bridger and the Fitzpatrick. The mountain is the most remote of all the state high points in the lower 48 states. Using the primary route, it is a 40-mile round-trip to the summit from the trailhead. The climb involves trail hiking, some cross-country travel, scrambling and glacier travel. (
more...
)
Click
here
to view photos.