Glacier Peak - Frostbite Ridge-Cool Glacier Traverse, August 2007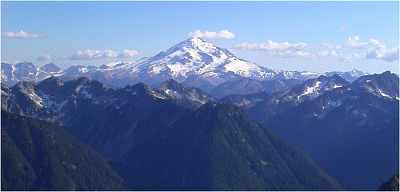 "This trip was about as much of Glacier Peak as I could hope to see in two days" - at least so says currently recuperating climbing partner Eric Hoffman of his solo Frostbite Ridge-Cool Traverse back in 2001. And while our trip took almost twice as long, given the current state of the White Chuck River Road and trailhead, Eric's report helped convince me that it would all be worth it in the end. I debated putting the trip on hold in hopes the Forest Service would get it together and finally repair the White Chuck River Road (washed-out back in Oct. 2003), but given the endless bureaucratic red tape that seems to precede any repairs to roads within national forest land, I doubt the Forest Service has the resources (or desire?) to actually start performing the work. Combine a seemingly endless environmental impact assessment process (there was a road there to begin with, right?) and a determined, but vocal minority that seems intent on simply letting Mother Nature reclaim all forest roads rendered defunct by acts of nature, the prospects of this and countless other roads of ever being repaired aren't good. With that in mind, I finally resigned myself to the fact that if I really wanted to climb this route, I'd be looking at a considerably longer outing both in terms of duration and mileage. And yes, I really wanted to climb Frostbite Ridge...
Our trip started just 2.5 miles shy of the North Fork Sauk River Trailhead...well, sort of (road closed due to bridge damage). The road (and bridge) is actually still drivable beyond the closed signs, and so Jerry dropped the packs (and me) off before driving the car back across the bridge, parking and then jogging back. The trail meanders along the valley for about five miles before climbing (shortly after Mackinaw Shelter), and reaches the Pacific Crest Trail (PCT) in about 7 miles. We camped that night at Red Pass, about a mile further.
We descended the PCT into White Chuck River Valley for about 10 miles the following day, and eventually reached our Glacier Ridge high camp on the Northwest side of Glacier after an estimated additional 2.5 miles. As expected, all creek crossings sustained MAJOR flood damage since October 2003 and the footbridge over the White Chuck River now lies down in the gorge. Baekos, Sitkum and Kennedy Creek crossings went easier, but the destruction and volume of water that must have run through these creeks during the peak of the floods is difficult to comprehend. After about 8 miles we finally encountered the familiar intersection with the PCT and White Chuck River Trail. It's been about 9 years since I had last been here - wow, how time flies! Despite the annoying creek crossings, the PCT itself is in surprisingly decent shape. We expected significantly more blow down than what we encountered and relatively little brush. From the aforementioned junction, we continued on the PCT for about 4 miles before veering right onto a spur trail that leads to and follows the crest of Glacier Ridge. The views of Glacier Peak from here are spectacular! We made camp at a flat gravelly area next to a large patch of snow at about 6400ft (7.5 hours to here). It was a pleasant and relaxing afternoon punctuated only by the heart attack-inducing roar of a couple EA-6B Prowlers strafing our position. Just as quickly as they appeared, they disappeared behind Glacier and all was peaceful again.
I had no less than 4-bars of cellular reception from camp, and so placed a call to Agata for an updated weather forecast. I haven't had good luck with the weather so far this summer, and my last check of the forecast prior to embarking on this trip wasn't too terribly encouraging. Agata read the NOAA forecast off to me - it was supposed to become partially-to-mostly cloudy by later that night and the next day, and mostly cloudy with chance of thunderstorms the following day. Of course! What else could I have expected? After all, we were on the threshold of the weekend and it only seems appropriate that the weather should once again deteriorate; only to improve the moment the weekend has passed. Sure smells fishy to me, but Agata tells me that I'm dwelling too much on the weather this summer and so I'll just leave it at that.
True to form we awoke to whiteout that next morning, but packed-up and started up towards the base of Frostbite Ridge in hopes we'd get above the clouds just the same. Besides, it'd take some pretty nasty weather to convince us to return the way we came by this point! The clouds were hovering around 7000ft, but kept rising as the heat of the sun made the valley clouds lift. I hindsight, I spent most of the climb looking over my shoulder second guessing what the weather was going to do, worrying if or when we were going to be engulfed in fog (which fortunately never happened). We donned crampons and roped-up shortly below Kennedy Peak, and began climbing up the upper-Ptarmigan Glacier aiming for a gap between Kennedy Peak and what appears to be a nunatak just to its left.
We descended to the Kennedy - Vista Saddle before continuing upwards on the Vista Glacier to the Vista - Ermine saddle, where we stopped to take a short break. Jerry then took over lead and started up snow, then unpleasant scree and various other volcanic detritus before reaching a rock tower shortly beneath the 'Rabbit Ears' proper. A brief, low-speed fly-over by the Blue Angels helped break the tediousness of the endless two-steps-forward-one-step-back trudging and reminded us that Seafair weekend was fast approaching. Traversing left, we skirted a steep, glistening water-ice pitch before climbing up and right on steep, exposed firn ice to where the slope eased off again.
The 'Ears proper were now within striking distance, but with another steep, exposed slope between it and us, I was keen on finding other options. It was then that I noticed a rappel station immediately off to my right (presumably to rappel the aforementioned water-ice pitch). Just up from the station was a small gap in the rock that seemed to offer a way around and behind the rocks below the 'Ears. This definitely required further investigation. Wouldn't ya know it - through the gap, then up and around to the left is a hidden, sandy, down-sloping ledge that leads to the short scree slope directly beneath the notch between the two ears. A slip on this ledge would probably have dire consequences and protection is virtually non-existent, but it is easy and short-lived and makes for a reasonable alternative to that steep, scary pitch high on the Dusty Glacier.
Beyond the ledge, we traversed left a short bit then entered the gap between the two towers that comprise the respective ears. Looking south, what remains of Frostbite Ridge was laid out before us. Though the nearest steep pitch seemed simple enough, I wasn't too excited about what appeared to be a band of dirty water ice directly above the crater. Let's see, just one ice screw, aluminum 'pons...hmm... We down-climbed loose 3rd-class rubble from the notch and started up the first steep pitch. Near the top, I was forced right to pass a 'schrund and kicked steps up a near-vertical wall of snow for about 10 feet. Fortunately the snow was soft. The slope eased off considerably after the first steep bit and we casually proceeded towards the crater proper. As mentioned in Selected Climbs v.II, I noticed the pool of standing water next to a small bivy site on the only exposed mound of scree. There were a couple chunks of wood here as well, as if someone had the intention of making a fire. Last I checked there weren't any trees growing at 10,400ft on Glacier Peak. Odd, eh?
I made a couple false starts at surmounting the ice band, first at far left then directly up from the aforementioned bivy site. Though I had brought my 3rd tool with me, I'm not sure that my lightweight aluminum crampons and ice axe were a particularly smart choice, given the conditions. At its shortest, the ice band easily pitched up to about 70 degrees or more. Fortunately, we were able to scramble up a short rib of loose blocks between the crater and the Scimitar Glacier at far right (low 5th) to gain the bench above the ice band. Traversing back left on the bench, we tackled the final exhilarating 50+-degree pitch on good firn to finally reach the summit.
We had the summit to ourselves and spent a fair amount of time relaxing in the warm sunshine and talking about our climb thus far. After a fair amount of lounging and making phone calls to significant others, we finally started the task of descending the Cool Glacier Route. Following a dusty trail along the pumice crest that extends north from Disappointment Peak, we eventually veered left and descended the Cool Glacier to a mildly crevassed constriction between it and the Gerdine Glacier. Once on the Gerdine, we traversed back right beneath Disappointment Peak before continuing down into whiteout. Using the crest to our right as a 'handrail', we navigated our way down to Glacier Gap and made camp for the night.
We awoke to whiteout that next day, but by the time we had finished brewing coffee and eating breakfast the clouds had mysteriously dropped below us. It looked to be clearing to the east, while the clouds were thick to the west with only the summit tip of Sloan peeking through. Hoping to make the most of the day, Jerry and I slogged on up to Kololo Peaks to survey the vast 'mer de glace' comprised primarily of the Suiattle, Honeycomb, White River and White Chuck Glaciers. I found Tenpeak Mountain to be particularly impressive from this vantage point and wondered what a climb of its' North Buttress would be like. I'll have to keep that in mind for some future DaKobed Traverse trip. Time was ticking and Jerry was eager to rendezvous with his girlfriend Susan who had camped at White Pass the night before. We traversed the upper-Honeycomb to the saddle between it and the White River Glacier. After descending to the White River Glacier flats, we kicked steps back up to the crest above the southeastern lobe of the White Chuck Glacier.
We then descended the White Chuck back into a whiteout and began traversing left on rubble left behind by this rapidly retreating glacier. Contouring at 6600ft, we traversed a low-angle section of bare glacier ice and crossed numerous braided streams and muddy glacial till before the fog thinned enough to allow us to finally identify White Mountain and Red Pass from across the valley. Visually following the ridge left (east) of White Mountain, Jerry and I identified 'Foam Pass', where we would finally exit this wasteland left behind by the dying White Chuck. We encountered the first people we'd seen since leaving the trailhead three days ago at the pass, with numerous parties hiking in to make their own attempts on Glacier Peak. A good trail traverses the meadows southeast of White Mountain, or for a more scenic alternative follow directly on the crest as we did. Quickly regaining the trail after our little ridge jaunt, we soon found ourselves back on the PCT where hugs awaited both Jerry and myself (though Jerry's was understandably longer and more 'tender' than that which I received).
While Jerry and Susan opted to stay an additional night at White Pass, I had had enough of the sore hips and sleepless nights thanks to my wholly useless Z-Rest and was determined to finally get a good night's sleep on a real mattress. I started back across the PCT around 2:30 pm, and after regaining the North Fork Sauk River Trail began the descent into the valley. With aching feet, I finally hobbled to the trailhead parking area by 6:00 pm and was fortunate enough to score a ride back to the car courtesy of a couple youths who had been doing trail maintenance that week (Jerry and I first met the pair when we started hiking in three days ago). Fortunately (for me), they were heading out a couple days early as one of the guys had apparently just injured a knee while trying to lift a log. Up until that point, they had clearly been making excellent progress sawing through and removing the annoying blow down lying across the trail. Here's to a speedy recovery!
All in all, it was a most memorable trip - almost Ptarmigan Traverse-like with vistas of tranquil alpine valleys and meadows as well as expansive glaciers and remote peaks. The climbing was fun with just the right amount of challenge for the relatively minimal gear we had brought with us. The ever-changing landscape also kept us continuously wondering what was around the next bend or behind the next ridge, and it was a fun exercise to prove to ourselves that we could forge a way along the PCT despite warnings intended to discourage travel along this portion of the trail. Jerry proved to be a solid and reliable partner throughout the countless miles and uncertainties we encountered along the way and I'm happy to have shared this journey with him. Without question, the original White Chuck River Trail/Sitkum Glacier approach does not do the area any justice. In this case, I'm humbled to admit that the White Chuck River Road washout can perhaps be considered a blessing...at least for those seeking an adventure a bit off the beaten path.
Click
here
to view.