Glacier Peak - Frostbite Ridge-Cool Glacier Traverse, August 2007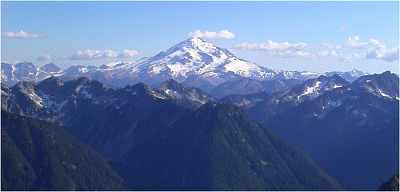 "This trip was about as much of Glacier Peak as I could hope to see in two days" - at least so says currently recuperating climbing partner Eric Hoffman of his solo Frostbite Ridge-Cool Traverse back in 2001. And while our trip took almost twice as long, given the current state of the White Chuck River Road and trailhead, Eric's report helped convince me that it would all be worth it in the end. I debated putting the trip on hold in hopes the Forest Service would get it together and finally repair the White Chuck River Road (washed-out back in Oct. 2003), but given the endless bureaucratic red tape that seems to precede any repairs to roads within national forest land, I doubt the Forest Service has the resources (or desire?) to actually start performing the work. Combine a seemingly endless environmental impact assessment process (there was a road there to begin with, right?) and a determined, but vocal minority that seems intent on simply letting Mother Nature reclaim all forest roads rendered defunct by acts of nature, the prospects of this and countless other roads of ever being repaired aren't good. With that in mind, I finally resigned myself to the fact that if I really wanted to climb this route, I'd be looking at a considerably longer outing both in terms of duration and mileage. And yes, I really wanted to climb Frostbite Ridge...
Our trip started just 2.5 miles shy of the North Fork Sauk River Trailhead...well, sort of (road closed due to bridge damage). The road (and bridge) is actually still drivable beyond the closed signs, and so Jerry dropped the packs (and me) off before driving the car back across the bridge, parking and then jogging back. The trail meanders along the valley for about five miles before climbing (shortly after Mackinaw Shelter), and reaches the Pacific Crest Trail (PCT) in about 7 miles. We camped that night at Red Pass, about a mile further. (
more...
)
Click
here
to view photos.