Matriarch-Macabre-Grimface Traverse, July 2008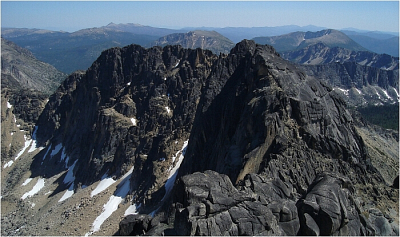 Inspired my Michael Stanton's trip report and having to make good on last summer's failed attempt, it was finally time to again endure the long drive along BC's Crowsnest Highway for another go at Cathedral Park's classic ridge traverse. Apparently still needing to feed his climbing rat following an ascent of Forbidden's East Ridge with me a week earlier, Eli graciously offered to drive and joined me on the climb.
We left town around 7 or 8 am and reached the trailhead about 7 hours later. The description in the Cascade Alpine Guide (CAG) is spot on: park at the 39km marker on Ashnola River Road and look for the large pedestrian bridge crossing the river. Hiking on the Centennial Trail is easy going - it is either flat or a moderate uphill. After an hour or so of hiking we encountered the familiar fork in the trail (sign here), taking the right fork up into Wall Creek Valley. It's mostly a boring valley hike from here to the meadows, whereupon the first real views of anything mountainous are had. The trail wanders through some boggy areas, but is nevertheless easy to follow providing one stays on the logs laid down to keep feet from getting wet. I think it took us about 3 - 3.5 hours to go the ~10 miles to a good campsite in the first open meadows encountered along the trail. We camped beneath a tree at the exact same spot where Martin and I camped last August. However, if one continues a few more minutes up the trail, better and more established campsites are available (recommended). (
more...
)
Click
here
to view photos.