Humpback Mountain, April 2006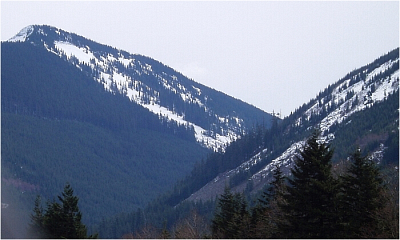 Going off of a tip from Eric, who had done this tour a week or two prior, I decided to explore Humpback Mountain's West Slope. Plainly visible from I-90, the West Slope reportedly delivered over 1500ft of easily accessed skiable vertical, requiring only a casual four hours round-trip. A perfect 'dawn-patrol' outing, or in my case, a quick fix before catching the Mariners - Angels game later that afternoon, it's suprising that this tour doesn't get more attention than it does.
After parking the car, I booted up the road for about a quarter mile before continuing on skis. Continue past two switchbacks (staying on main road). At the third switchback/fork, take the left fork and continue upwards on a spur road - it leads to a clearing directly beneath the West Slope. I ascended the West Slope directly to the summit. Returning from the summit, I enjoyed sun-ripened corn all the way down the West Slope and then down the snow-covered logging road, stopping within sight of my car. Definitely recommended!
Click
here
to view photos.