Mount Index (North Peak) - North Face, August 2005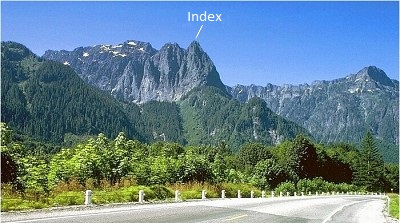 Surrendering all hope for favorable climbing conditions north of the border this season, Eric and I resigned ourselves to climbing that pesky little sub-alpine brush-fest off of hwy 2. Yep, we finally succumbed to the allure of Mount Index's prominent North Peak. No more would we have to tolerate the drive to and from Stevens Pass, wondering why anyone would willingly endure such a vague and brushy route only to reach the lower of Index's three summits. That said, one could certainly traverse the three summits, and thereby truly summit the peak (in fact there've been numerous such ascents this year alone), but that would be a bit more than what Eric and I had in mind. In any case, a climb of the North Peak in dry mid-August conditions similar to what we encountered, is only for those with an acquired taste for "the savagery of the Cascades". Take Beckey's terse warning - "Be prepared for a bivouac on this climb" and mix in equal parts fatigue, dehydration and notoriously difficult route finding, and you've got yourself a surprisingly tall order for a summit that barely reaches 5300 feet. Sweet, sign us up!
We left Seattle late in the afternoon and made the short drive over to the Lake Serene Trailhead. A pleasant hike that gets somewhat steep near the end saw us to the picturesque Lake Serene. A trailhead notice advises against camping within 500 feet of the lake, but fails to suggest where else one should camp. Locating the only reasonably flat and brush-free patch of dirt directly alongside the trail, we dropped our packs and laid out our bivy sacks for a warm night among mosquitoes and shards of broken glass. We departed camp at first light and made our way towards the obvious talus slope beneath the Northeast Spur. Following a bit of a path through thick brush, we reached the crest of the brushy spur and changed into our rock gear. Climbing up from this point, we simul-climbed about two pitches of slabby and mossy rock to reach the base of the "steep wall" mentioned in the CAG. Working left, a short pitch up a brushy gully/dihedral led to a good stance from where to belay the "exposed corner" pitch. A short dihedral led around the corner, whereupon I began working up clean rock on a small rib. (
more...
)
Click
here
to view photos.