Gunn Peak - East Peak, April 2004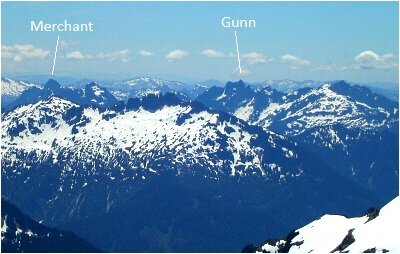 Paul and I attempted Gunn Peak on April 26th. We failed on Gunn's main summit but managed to climb to the East Peak (6,160+ ft). The ledge on the north side that leads to the summit was literally an 80-degree snowslope with cliffs below. A slip here would be deadly in these conditions. Furthermore, it must have been the warmest day yet this spring and the unconsolidated, wet snow provided little in the way of secure footing. We briefly discussed exploring an alternative summit route via the Southwest Face, but given the conditions we were reluctant to commit ourselves to it. Our consolation prize was Peak 5842 and from where were able to take in the western views blocked to us on the East Peak by the true summit.
Leave the Barclay Creek Road at the spur heading north approximatly 1 mile from the trailhead parking-lot. The trail to the logjam is flagged to the east of the wide area on the spur road (where the fire pit is located). In 100 yards the trail gets to the logjam crossing. It was easy for us though slick. A second crossing of the creek is necessary shortly thereafter. This one was a little harder due to unsecure 8-inch rotting logs. The trail then travels north to an old road bed for maybe a 1/4 mile. Turn to the west (left) on the road and continue for approximatly 100 yards to where an even more overgrown road branches off to the north again. Follow that road a short distance to a small grove-like landing, where the road comes to an end. At the other-end of the landing, look for flagging and the start of the climber's trail. (
more...
)
Click
here
to view photos.