Jove Peak - Ski Tour, March 2006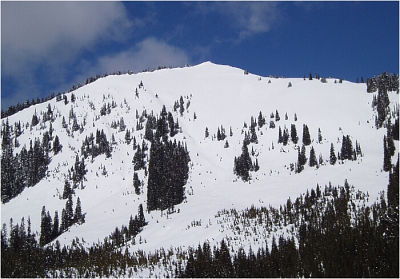 It's been a winter of chair lifts and exploration of lift-accessed backcountry for me...which explains the dearth of b/c reports this season. What can I say? With conditions quite unlike what we've endured for the previous two or three seasons, and with Larry Shick's unrelenting barrage of "Powder Alerts", I find myself inexplicably drawn to those wallet-draining slopes in the "north/southback". Play now, pay later...yeah!
Um...anyway, after having discussed doing this tour for what seems like months, Jerry, Eric, Jay, myself and Jerry's dog, Cosmo finally got it together and dragged ourselves up Jove's snowy slopes. The forecast called for mostly cloudy skies, and though it certainly seemed that way on the drive over Stevens Pass, we were treated to partly cloudy skies with a good dose of blue poking through for most of the day. Without clouds to obscure the sun's rays, she definitely burns hot this time of year...Spring is fast approaching!
With serious sun exposure on the South Slope and potential wet slab action, we elected to ski/board dry powder on the protected Northwest Slope. We could see tracks, presumably from the day before, descending the minor rib on the left-side of the South Slope...they looked nice! Our north-side descent brought us to Lake Janus, where we skinned-up again and proceeded to make our way around the toe of Union Peak's North Ridge. Continuing up a drainage south of Union Peak, we reached Union Gap and then descended back into upper Smith Brook basin. When doing this, I'd suggest staying in trees at skier's right to avoid traversing a large south-facing avalanche slope. I felt/heard a wet slab settle as I tried skinning across that slope (a 160-pound Eric ski-cut the slope above me without consequences), and immediately turned around and tip-toed back to the relative security of the treed slope from where I came. A quick, icy 'ski' saw us back to HWY2 and the cars (~8hrs round-trip). All-in-all, a fun loop-tour with interesting terrain, nice vistas and great snow...and a welcome change from those annoying lift lines!
Click
here
for photos.