Mount Logan - Douglas Glacier, June 2006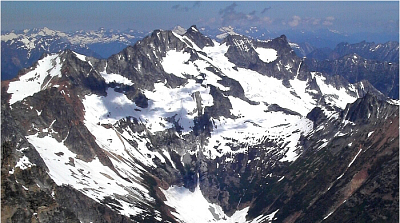 Mount Logan is a large, important massif situated in the heart of the North Cascades National Park. Easily seen from such places as Eldorado Peak, Black Peak and Mount Goode (to name a few), Logan's presence is hard to miss or ignore. At just over 9000 feet, the peak is also among the elite few non-volcanic "nine-thousanders" in Washington State. Draped on all sides by relatively large glaciers (Freemont, Banded and Douglas), Logan offers numerous routes with varying aesthetic qualities and approach considerations. For us, the decision to climb the Douglas Glacier was an easy one - the approach is perhaps the shortest, albeit without a trail for the thrash up the valley draining the Douglas.
Jeff, Paul and myself, met up on a Saturday morning in late June and drove to the Marblemount Ranger Station to sign in. We reached the Easy Pass Trailhead around 11:00am - there was only one other car there. The temperature was already bordering on being uncomfotably warm, knowing full-well that it was only going to get hotter. After dividing up gear and going though the usual pre-climb motions, we shouldered packs and headed up the trail. Hiking up towards Easy Pass was uneventful aside from a creek crossing on a long, narrow, slippery log to help make the otherwise monotonous slog interesting. Snow on the trail started about two miles in, but was firm underfoot making travel easy - we made the pass in about 2 hours, 20 minutes. The Fisher Creek side of the pass was devoid of snow and subject to the full intensity of the afternoon sun, but offered unobstructed views of our objective along with the other peaks of the area. Descending into the valley, we encountered two familiar climbers and their four-legged companion at the junction of Fisher Creek. They were out for Mesahchie Peak and possibly Katsuk. (
more...
)
Click
here
to view photos.