Mazama Ridge, February 2005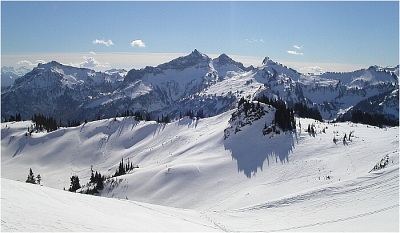 Eric Hoffman, Eric Houtkooper, Jim (last name?), Agata and I teamed up for a short tour up Edith Creek and Mazama Ridge. It was my first time touring somewhere other than the Muir Snowfield on Mount Rainier and it was good having both Erics along to show me around. The snow conditions were great, but I found the runs a bit tame and somewhat short for my taste.
Good times were had nonetheless and the views towards the Tatoosh Range and of course The Mountain were stellar. Agata got some more touring experience under her belt, I got to see a side of the mountain I'd not visited before and we all got fresh turns in. No complaints!
Click
here
to view photos.