McClellan Butte - North Couloir, May 2002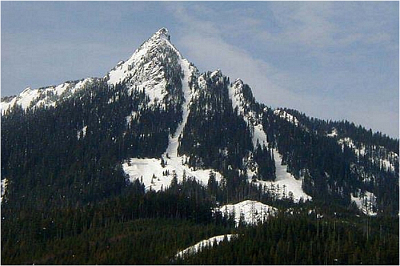 With the certainty of deteriorating weather, I tempered my ambitious climbing plans for the weekend and suggested to Scott that we go after McClellan Butte in "full" conditions. My objective was to climb something I considered only moderately technical, allowing us the opportunity to make key learning experiences without the commitment of a more serious alpine outing. We had been humbled by our attempt on Chair Peak in Febuary and so McClellan Butte in winter (we had winter-like conditions in early may) would suffice as a half-assed substitution.
We turned off I-90 at the Tinkham exit, parked at the trailhead and started hiking in around 7:30am. We hiked through low clouds and fog but didn't encounter much more than the occasional sprinkle. We lost the regular summer trail at a large clearing, futzed around in the forest trying to regain our bearings and returned to the clearing hoping it would lead us to the couloir. John, Scott and Joseph pose for me just below the start of the North couloir (the obvious gully leading directly to the summit rocks as seen from the northeast on I-90).
Although it wasn't entirely necessary, I suggested that we rope up in the couloir so that we wouldn't have to deal with it higher up on steeper terrain. I wanted to practice a couple running belays with Scott anyway. The upper portion of the couloir steepened to about 45/50 degrees. Scott and I belayed each other for a couple pitches until we reached the base of the summit rocks. John led out up the exposed summit ridge to a tree belay and brought up Joseph. The rocky summit ridge gave way to a small snow covered summit dome. We drank, ate and John took the obligatory summit shit.
The scramble back down to the belay tree was somewhat sketchy with crampons on. With the thin dusting of snow on the rocks, taking the crampons off didn't appear to be an option either. Scott and I therefore downclimbed some steep-ass snow next to the rocks until we were able to traverse back over to the belay tree. We then set up a rappel station off of the tree. We did a double rope rap off the summit ridge and down the upper half of the couloir.
Downclimbing was tedious, but short and soon we were back on the trail. We unanimously agreed that the climb was really very enjoyable, despite the weather and despite the peak being somewhat uninteresting as a summertime outing. We finally got the opportunity to put some snow/ice skills to the test without getting too in over our heads. With any luck, Chair Peak next winter will be a success.
Click
here
to view photos.