McClellan Butte - North Couloir, May 2002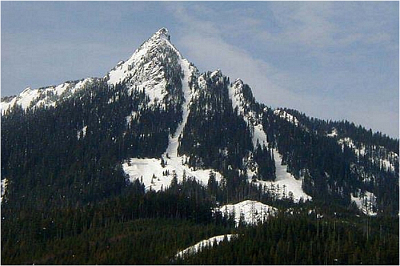 With the certainty of deteriorating weather, I tempered my ambitious climbing plans for the weekend and suggested to Scott that we go after McClellan Butte in "full" conditions. My objective was to climb something I considered only moderately technical, allowing us the opportunity to make key learning experiences without the commitment of a more serious alpine outing. We had been humbled by our attempt on Chair Peak in Febuary and so McClellan Butte in winter (we had winter-like conditions in early may) would suffice as a half-assed substitution.
We turned off I-90 at the Tinkham exit, parked at the trailhead and started hiking in around 7:30am. We hiked through low clouds and fog but didn't encounter much more than the occasional sprinkle. We lost the regular summer trail at a large clearing, futzed around in the forest trying to regain our bearings and returned to the clearing hoping it would lead us to the couloir. John, Scott and Joseph pose for me just below the start of the North couloir (the obvious gully leading directly to the summit rocks as seen from the northeast on I-90). (
more...
)
Click
here
to view photos.