Mesahchie Peak - North Ridge, June 2005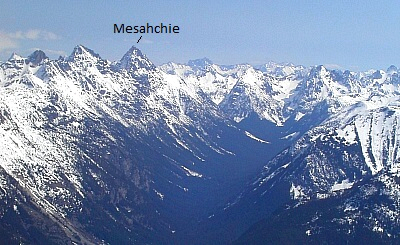 Having just overcome the soreness in my thighs from the previous Mount Maude climb, Eric and I helped ourselves to another serving of North Cascade suffering. On the menu this time was the North Ridge of Ragged Ridge's main summit - Mesahchie Peak. Certainly the most aesthetic (and solid) line on the mountain, Mesahchie's North Ridge offers a bit of everything for the aspiring alpinist in us all. A character-building footsore traverse, easy glacier slog and a short, but exciting ice pitch, topped with about 600 feet of exposed class 3/4 (some 5.0) ridge climbing on surprisingly solid rock.
One might speculate why the peak was named Mesahchie, meaning "wicked" in the Chinook jargon, in the first place. Perhaps its striking pyramid-shaped appearance from Easy Pass conjures up wickedly good vibes, or something. The peak is certainly surrounded by impressive scenery. With the deep, u-shaped Fisher Creek Valley gently curving toward Mount Logan and its expanse of glacier ice, Mesahchie Peak is definitely in the company of some of the best the North Cascades has to offer. Personally, if you exclude the North Ridge, I think "wicked" better describes the general rock quality on the peak...as in wickedly loose! Both the Southeast Slope and West Gully route, which we took on descent, are guaranteed to exhaust your appetite for choss. But, more on that later... (
more...
)
Click
here
to view photos.