Ptarmigan Traverse - July 2005 (Mount Formidable, Sentinel Peak and Dome Peak)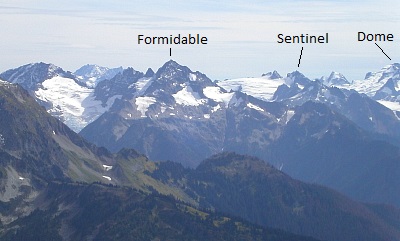 A popular high-alpine traverse first completed by members of the Ptarmigan Climbing Club in July 1938, the almost 40-mile long Ptarmigan Traverse links Cascade Pass to the Suiattle River area. Though not necessarily technical in nature, this cross-country traverse does require good mountaineering and navigation skills. It crosses 6 or more crevassed glaciers, traverses above 5 or 6 major valleys and can include any number of peaks. For Eric Hoffman and me, it was the only logical way for us to bag Mount Formidable, Sentinel Peak and Dome Peak (again). We had hoped for Spire Point and Sinister Peak as well, but came up short of our target.
Target or not, we definitely didn't leave the area empty handed. For us, the real draw was really just to see this fabulous corner of the North Cascades. To me, among the top three scenic climaxes of the entire Cascade Range, the Ptarmigan Traverse area offers the pilgrim solitude among sublime vistas of heavily glaciated peaks, tranquil turquoise lakes and lush, sun-filled valleys. (
more...
)
Click
here
to view photos.