Mount Rainier - Ingraham Direct, August 1998 (plus Pyramid Peak)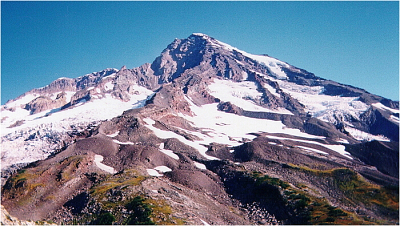 Our very first and horribly ill-conceived attempt on Mount Rainier actually took place one sunny October weekend in 1998. As it was already very late in the season, John and I concluded that most glacier routes would be in poor condition and that we should choose a route involving as little glacier travel as possible. Beckey's CAG indicates that the Success Cleaver is an all-rock scramble route to about 13000ft or so by late summer - we were all over it!
In the end we didn't even make it beyond Pyramid Peak, let alone set foot on the cleaver. Much unlike my partner, John Weller, I was in terrible shape...certainly in no condition to climb a 14,400ft volcano. The long approach from the Kautz Creek Trailhead that first afternoon and ridiculously heavy pack destroyed me. The pleasant scenery of meadows and ponds in Pyramid Park only offered a brief reprieve from our inevitable failure at summiting Mount Rainier. Not surprisingly, after wasting hours and depleting what was left of my limited energy and motivation in an unintended and uncharted tour over and around Pyramid Peak, I finally submitted and threw in the proverbial towel. Good John was understandably upset, but for me the big pimple would simply have to wait...
The following summer, John and I again set out on our quest to conquer the mountain. This time we opted for a more traditional route, though not necessarily the most common. We left Seattle on a warm summer Friday afternoon and set up camp in the meadows just above Paradise. The following day we slogged up the Muir Snowfield to Camp Muir and beyond, up to what was to be our high camp at Ingraham Flats. The weather was perfect and spirits were high. We set up camp and I enjoyed my first steak dinner in the alpine. Shortly thereafter, darkness was upon us. With summit dreams occupying our minds, we attempted sleep at 11,000ft.
We had intended to pursue the well-traveled Disappointment Cleaver route, but en-route encountered some serious RMI guided traffic taking a snail's pace up the cleaver. Desperately wanting to get ahead of the guided parties, we scoped out alternative routes in the dark. Access through the Ingraham icefall was sketchy at best, but once beyond that we were rewarded with a relatively direct route without anyone to slow us down. The glacier was already quite broken up and several interesting crevasse crossings had to be made. Towards the top of the Ingraham Direct route a large moat had developed with only a thin spine between gaping crevasses providing access back to the top of the cleaver. With most of the sketchy terrain behind us, the route onto the upper Ingraham/Emmons was relatively straightforward.
At about 13500ft the wind had become unbearable. Small ice pellets were being flung into the air stinging our faces making it impossible to keep our eyes open. Both John and I started feeling the altitude and with the raging wind blowing against us, progress slowed considerably. After having been knocked off our feet by the wind several times we decided to turn back. The return proved to be quite a process in itself. One particular highlight involved a blind jump over a crevasse. Eventually, we hobbled back to base camp on the Ingraham Flats. John was feeling nauseous as was I. My face was also nicely burned by the ice-cold wind. We took this photo to commemorate the occasion and pay tribute to our suffering. Needless to say, very few summited that day. We rested in our tent for a while before the inevitable slog back down the mountain. By then the winds had picked up even more making getting down from Ingraham Flats somewhat difficult. All that wind brought some worsening weather with it. By the time we made it to Paradise the summit was totally obscured by clouds. We were glad to be off the mountain. Obviously, we were compelled to make another attempt!
Click
here
to view photos.