Mount Rainier - Ingraham Direct, August 1998 (plus Pyramid Peak)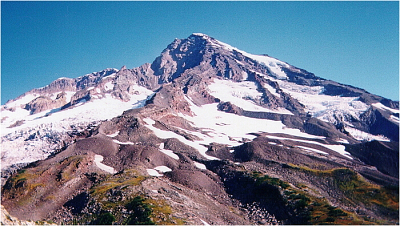 Our very first and horribly ill-conceived attempt on Mount Rainier actually took place one sunny October weekend in 1998. As it was already very late in the season, John and I concluded that most glacier routes would be in poor condition and that we should choose a route involving as little glacier travel as possible. Beckey's CAG indicates that the Success Cleaver is an all-rock scramble route to about 13000ft or so by late summer - we were all over it!
In the end we didn't even make it beyond Pyramid Peak, let alone set foot on the cleaver. Much unlike my partner, John Weller, I was in terrible shape...certainly in no condition to climb a 14,400ft volcano. The long approach from the Kautz Creek Trailhead that first afternoon and ridiculously heavy pack destroyed me. The pleasant scenery of meadows and ponds in Pyramid Park only offered a brief reprieve from our inevitable failure at summiting Mount Rainier. Not surprisingly, after wasting hours and depleting what was left of my limited energy and motivation in an unintended and uncharted tour over and around Pyramid Peak, I finally submitted and threw in the proverbial towel. Good John was understandably upset, but for me the big pimple would simply have to wait... (
more...
)
Click
here
to view photos.