Mount Rainier - Disapointment Cleaver, July 1999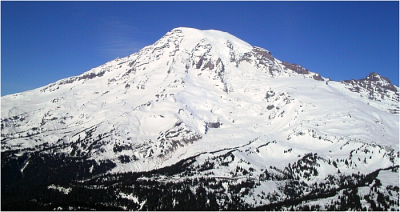 For my 3rd attempt at Mt. Rainier I paired up with Bruce Heskett late on a Friday afternoon and planned joining Chris and Dave at Camp Muir on Saturday morning. Ben was also planning on meeting us at Paradise that morning, but was nowhere to be found by the time we were ready to start hiking. Bruce and I wanted to reach Camp Muir that Friday night and thus proceeded to hike up the Muir Snowfield in freezing whiteout conditions. At around 11pm and in deteriorating weather, we decided to call it good and set up camp next to some exposed rocks (Moon Rocks?). We hurriedly shoveled out a flat spot for the tent, crawled inside, and boiled water for hot cocoa.
We were greeted by more whiteout conditions that following morning. Having packed up, we headed for higher ground and soon topped out above the clouds. Lo and behold! There's a sunny day above them clouds! But, what of Ben? Apparently Chinook Pass was still closed. As Ben was driving from Yakima that Friday afternoon, he was forced to backtrack, drive over White Pass to Packwood and enter the park via Longmire. Needless to say, a big detour! Once in the park, I believe he was ticketed for speeding and had a flat tire soon thereafter, which incidentally required some assistance from a park ranger to replace (probably the one that wrote his ticket). Ugh! The fact that he spent a miserably rainy night in his tent in a futile hope of us crossing paths the following morning only adds insult to injury.
Little did either of us know that it would be the two of us that would pair up in the future and finally make it to the top of Mt. Rainier. On our hike up to Camp Muir we found Chris and Dave packing up camp no more than a couple hundred feet above us. We had permits for camp sites at Ingraham Flats, about an hour or so beyond Camp Muir, and so had plenty of time to relax. I still hoped to see Ben emerge from the clouds below. We put on our harnesses and helmets and roped up for the short traverse below Gibraltar Rock en route to Ingraham Flats.
By next morning the cloud ceiling had crept up the mountain. Bruce wasn't feeling well, probably affected by the elevation and so it would be just Chris, Dave and myself on the rope. Progress was painfully slow climbing up the cleaver. Repeatedly, I would urge Chris, who was leading, to pick up the pace. After several minutes of this, Chris grew increasingly agitated. I could not bear to see rest-steps at this early stage of the climb. Eventually, Chris burst out with the now infamous "get off my line!!" and threatened to leave me to climb un-roped. In the end, we didn't proceed beyond the top of the cleaver as emotions were running high and weather continued to deteriorate. Needless to say, there'd be another attempt in the near future...
Click
here
to view photos.