Mount Rainier - Disapointment Cleaver, July 1999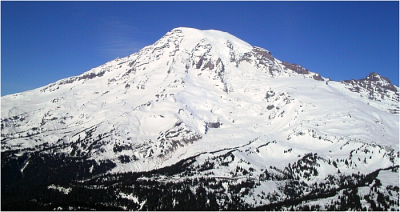 For my 3rd attempt at Mt. Rainier I paired up with Bruce Heskett late on a Friday afternoon and planned joining Chris and Dave at Camp Muir on Saturday morning. Ben was also planning on meeting us at Paradise that morning, but was nowhere to be found by the time we were ready to start hiking. Bruce and I wanted to reach Camp Muir that Friday night and thus proceeded to hike up the Muir Snowfield in freezing whiteout conditions. At around 11pm and in deteriorating weather, we decided to call it good and set up camp next to some exposed rocks (Moon Rocks?). We hurriedly shoveled out a flat spot for the tent, crawled inside, and boiled water for hot cocoa.
We were greeted by more whiteout conditions that following morning. Having packed up, we headed for higher ground and soon topped out above the clouds. Lo and behold! There's a sunny day above them clouds! But, what of Ben? Apparently Chinook Pass was still closed. As Ben was driving from Yakima that Friday afternoon, he was forced to backtrack, drive over White Pass to Packwood and enter the park via Longmire. Needless to say, a big detour! Once in the park, I believe he was ticketed for speeding and had a flat tire soon thereafter, which incidentally required some assistance from a park ranger to replace (probably the one that wrote his ticket). Ugh! The fact that he spent a miserably rainy night in his tent in a futile hope of us crossing paths the following morning only adds insult to injury. (
more...
)
Click
here
to view photos.