Mount Rainier - Emmons Glacier, June 2001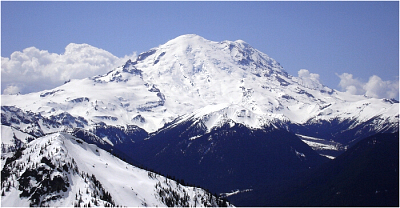 This is yet another chapter in the I failed on Mt. Rainier again saga. Sowing the seeds of failure was a marginal weather forecast - Saturday would be nice, but windy with increasing clouds early on Sunday. To make matters worse, a certain member of our climbing party posessed a level of mountaineering experience and conditioning that fell far short of expectations. Accompanying me on this exercise in futility were Don, Nick (a first-timer on the mountain) and Doug. Ultimately, it was Doug who wanked with his big talk and frustratingly slow pace.
Don and I left early on a Friday afternoon and met up with Nick and Doug at the Sunrise Ranger Station. This was my first time on the northeast side of the mountain and as such was a welcome change from the usual gong show at Paradise. I enjoyed the short scenic hike up to our first camp in Glacier Basin. Blue sky started poking through as we approached the base of Inter Glacier the following morning. We stopped for a rest on what appeared to be a former camp site on the Inter Glacier. The clouds rolled in and out but did not appear particularly threatening. We continued on up to Camp Curtis and set up our tents. Afterwards, we relaxed in what was to be the last of the sunshine. Little Tahoma could be seen across the lower Emmons Glacier. The Emmons is one of the largest glaciers in the lower 48, second only to the Boston Glacier in the North Cascades perhaps.
We awoke at around 12:00 that night and took an eternity to get ready. Doug was impossibly slow and voluntarily untied himself from our rope following Don's continued urging that he pick up the pace. Nick, myself and Don made it to 11,600ft before stopping for a rest. Nick was looking quite ill at this point and was clearly not able to keep going for much longer. The wind was howling and we were all getting really cold. Don was concerned with our slow progress and didn't want to risk stepping over weakening snowbridges on what was likely to become a late afternoon descent. We had lost a lot of time before Doug clipped out and with Nick's condition and the worsening weather, retreat seemed like a wise thing to do.
The weather started getting nasty and we were quite happy not to be stuck farther up on the mountain. We waited it out for several hours at camp, but the weather only deteriorated further. We resolved to go home, and did so in the pouring rain. What fun! The next attempt...
Click
here
to view.