Mount Rainier - Emmons Glacier, June 2001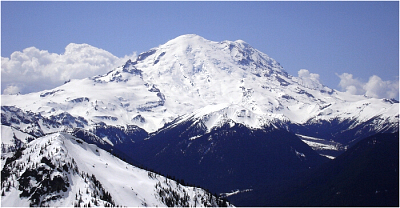 This is yet another chapter in the I failed on Mt. Rainier again saga. Sowing the seeds of failure was a marginal weather forecast - Saturday would be nice, but windy with increasing clouds early on Sunday. To make matters worse, a certain member of our climbing party posessed a level of mountaineering experience and conditioning that fell far short of expectations. Accompanying me on this exercise in futility were Don, Nick (a first-timer on the mountain) and Doug. Ultimately, it was Doug who wanked with his big talk and frustratingly slow pace.
Don and I left early on a Friday afternoon and met up with Nick and Doug at the Sunrise Ranger Station. This was my first time on the northeast side of the mountain and as such was a welcome change from the usual gong show at Paradise. I enjoyed the short scenic hike up to our first camp in Glacier Basin. Blue sky started poking through as we approached the base of Inter Glacier the following morning. We stopped for a rest on what appeared to be a former camp site on the Inter Glacier. The clouds rolled in and out but did not appear particularly threatening. We continued on up to Camp Curtis and set up our tents. Afterwards, we relaxed in what was to be the last of the sunshine. Little Tahoma could be seen across the lower Emmons Glacier. The Emmons is one of the largest glaciers in the lower 48, second only to the Boston Glacier in the North Cascades perhaps. (
more...
)
Click
here
to view photos.