Mount Spickard (South Ridge) & Mount Redoubt (Redoubt Glacier), August 2003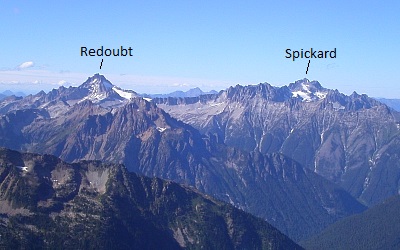 Ever since stumbling upon Darin Berdinka's (website no longer active) detailed account of Mount Redoubt's Northeast Face, I have been itching to experience the classic snow and ice route for myself. Furthermore, with Mt. Redoubt's distinct pyramidal shape with diamond-shaped snow patch on its South Face so clearly visible from many distant North Cascades summits, I was helplessly compelled to explore this remote and mysterious peak. Apparently so too was Eric Hoffman, who graciously picked me up in Seattle at 4am and then drove north across the USA-Canada border. Though Mt. Redoubt is located in the North Cascades National Park, the trailhead and first mile or so of the Depot Creek approach starts in British Columbia. Eric and I also agreed to forego Redoubt's Northeast Face as recent reports suggested the route was already out of shape, thanks to the unusually high temperatures this summer and low snow year. Instead, we settled on climbing the Redoubt Glacier/South Face of Redoubt (the standard route, or the descent route for those climbing the NE Face) with the option of attempting Mt. Spickard after dropping overnight gear at Ouzel Lake camp on the day of our approach.
To get to the trailhead, drive to Rte. 1 via the border crossing of your preference (given our early departure, we assumed the Sumas crossing would still be closed and so entered Canada via the Cloverdale/truck crossing). Drive east on Rte. 1 to Exit 119a (Vedder Road). Continue south through Chilliwack for about 3.4 miles and take a left on the Chilliwack River Road, immediately before crossing the Chilliwack River Bridge. Follow this road for 31 miles, eventually skirting the northern, then eastern shore of Chilliwack Lake. Take a left (2nd left after reaching lake, I think) and proceed steeply uphill on an unmarked spur road that heads up the Depot Creek Valley. If you reach a large, orange steel bridge you have just missed this spur road. The Depot Creek "road" is very rough and somewhat overgrown and will test your suspension and ground clearance, not to mention the number it does on the paint job (4x4's highly recommended!). Follow the "road" for 1.7 miles, staying left at forks, to a large clearing. Park here, noting a small bridge visible 100 yards down the right fork from the clearing.
Hike up the left fork of the road a short distance until a pine needle-covered spur road cuts left. Follow this spur as it trends slightly uphill, and turn right at the T-junction. Continue down this spur road as it turns into an overgrown, muddy trail, reaching the International Border (and, beyond, the North Cascades National Park) in about a mile from the car. On the American side, an obvious and open trail winds lazily through beautiful old growth forest. The trail eventually traverses through a short section of slide alder before reaching the base of the infamous Depot Creek headwall and waterfall. Prepare to get wet. A wet and muddy fixed line is used for aiding up a short slippery step. The trail then heads steeply up through alder, talus and forest (look for flagging) before cresting above the headwall that separates the upper and lower valley.
Find a clearing in the trees and get a good look at the striking visage of Mount Redoubt from here. The East Depot Glacier was very broken up and the ice apron (NE Face Rte.) looked like one heck of an undertaking in the present conditions. Rather than set up camp here, we decided to continue up-valley and camp at Ouzel Lake. We followed a faint path along the swampy north-edge of the valley (Welch Peak and Foley Peak visible in distance - left-to-right), below a broad talus slope, until losing the trail entirely in talus and alder. We fought brush while traversing talus before descending a short distance to the stream that drains from Ouzel Lake. We followed the gravelly and bifurcating streambed, reaching Ouzel Lake (5700') at around 12:30pm.
I felt weak and exhausted, presumably from lack of sleep, and began questioning my ability to climb Mt. Spickard. Fortunately, after resting for an hour-and-a-half, I felt a little more up to the challenge. My intention was to climb Mt. Spickard via the Silver Lake (North) Glacier/North Face route. However, considering the time it would take to complete the route, my expired vigor, and the need to carry and futz around with glacier gear, I happily settled on Eric's recommendation to just punt up the South Ridge instead. From the lake we headed northeast up the broad talus gully leading to the high pass between Ouzel Lake and Silver Lake. Before reaching the pass, though, we cut right on a steep heather slope, after climbing the gully for about 700 feet, aiming for the small glacier nestled below Mt. Spickard's Southwest Face. After a tedious traverse on steep scree, we reached a flat snow slope.
We headed up the small but steepening glacier (about 30-35 degrees at most), passing one small crevasse near the top to reach the 8000-ft col in the S/SW ridge of Mt. Spickard. We descended a short section of loose rock on the other side and traversed left, looking for a weakness in the cliffs to our left. We located a small snow-filled gully and climbed up, staying mostly on sand and rock on the left side. A narrow class 3 chimney at the top duped me into thinking we were near the summit. I climbed out of the chimney to discover a wide class 2/3 talus slope with the summit still seemingly an endless scramble away. I complained to Eric, who was already well on his way across the talus slope, about how shitty I felt and how deflating it was to see the summit still so far away. I decided to just aim for a high point in the crest of the South Ridge and call it good. Eric could go tag the summit by himself as far as I was concerned.
As I approached the ridge crest, however, I couldn't decide which high point to stop at, and so kept climbing. The summit drew closer and I changed my mind and started chasing after Eric. After climbing up yet another 3rd-class gully of loose and shitty rock, we crossed over to the left side of the crest for the final 100 feet of choss to the summit. As anticipated, the views were nothing short of spectacular. Three hours from camp to summit-not bad considering how much we had already done this day. We followed the same route on the descent, reaching Ouzel Lake in about two hours, only to discover Paul Klenke and Tom Sjolseth fighting off mosquitoes at our camp. They were there to do some Top 100 peak bagging of their own. Their itinerary for the next day included Mt. Rahm, Mt. Custer and Mt. Spickard, which is certainly a full day. Eric and I would also have our hands full just climbing Mt. Redoubt, packing up camp, hiking out, and returning to Seattle all in the same day. With bellies full from dinner, we said goodnight to the mosquitoes and retired for the night.
Eric and I began to stir about a half-hour after Paul and Tom departed from camp. By 6:20am, we too were on our way. Crossing Depot Creek where it drains from Ouzel Lake, we climbed up a short scree slope to the slabby rock below the Redoubt Glacier. Some class 2/3 scrambling on slabs and a short rightward traverse brought us to snow at the edge of the glacier, whereupon we roped up. We climbed up through low angle glacier ice and made a crevasse end-run or two, before reaching the expansive and completely flat upper Redoubt Glacier. We were heading for the 7760-ft col immediately south of the Flying Buttress. We dumped our glacier gear at the base of the col and climbed rock to the crest. We descended loose rock on the other side of the col then made a descending traverse on snow slopes, bearing west. We caught up with four climbers at the base of a snow and rock gully, who had apparently left their lakeside camp sometime before us. These climbers were nice enough to wait and let us pass through the chossy gully. While I struggled to put my crampons back on, Eric took the lead and began making his way up on steep, hard snow/ice above the aforementioned gully.
Soon the slope opened up, forming a bit of an amphitheater or cirque. Rather than bear left and aim for talus at the edge of this snowy cirque (recommended...we returned via this route), Eric and I proceeded directly upwards into what appeared to be the continuation of the gully we had previously climbed through. The other party of four blindly followed us as we ventured off-route. This second gully grew steeper, narrower, and the snow had become harder. I soon found myself on some unexpected front-pointing/ice axe-swinging terrain, climbing up a thin finger of ice between moats on either side. The ice then stopped abruptly after a short distance, and gave way to a widening but steep and extremely loose rock and sand gully. An ancient rap sling artifact tied around a cluster of loose boulders above the ice attested to the fact that we weren't the only ones to have been suckered into the gully. Unfortunately, we had left our rope and harness back at the col. There had better be a way out of this damn thing, I thought to myself.
Eric had climbed up and left and wasn't responding to my calls. I carefully followed in his footsteps, trying my hardest not to send any cannonballs down the gully to where the last of the other party had just climbed past the icy crux. Inevitably, I managed to dislodge a boulder the size of a computer monitor, which promptly accelerated down the gully with frightening speed. I yelled "ROOOCK" and watched as the other party scattered and hugged the rock walls on either side of the gully. Watching a rock of that size tumble into the abyss below you is an exhilarating sight. Watching it hurtle towards innocent people below, on the other hand, is an entirely different story. Fortunately, nobody got hit. I exited the deathtrap gully on its left, by climbing another short gully of broken rufescent rock to an obvious ledge that seemed to show evidence of human passage.
Noting that Eric had left his crampons and axe behind at this spot, I did the same and began climbing easy 4th-class rock on the buttress directly upwards from the ledge (traverse the ledge a bit farther to the left and you will see the class 3 gully that is typically used for the descent). As I topped out on the buttress, I finally saw Eric in the gully to the left and below me. He expressed some concern that the gully might not go, though he did see what appeared to be rap slings tied around a chockstone lodged high in a notch at the top of the gully. The buttress I was climbing, however, appeared to us to be the better way to go. We continued climbing the buttress a short distance, before being confronted with several thousand feet of air between us with the Depot Glacier far below. Our only option was to turn left and climb up a blank face, with a highly exposed class 4 traverse into a shallow gully directly below the summit. We then climbed easier blocky rock for a short distance to reach the summit and breathed a collective sigh of relief.
The views obviously weren't really much different than what we had seen from Mt. Spickard. Unfortunately, a haze obscured the distant peaks, and near-field contrast was poor for taking pictures. I refrained from my usual frenzied picture taking, knowing that I had gotten some nice shots of similar views the previous day. Eric and I finally had some lunch and sat around taking in the scenery. After 10 or 15 minutes, the other party arrived. I apologized for sending that boulder down on them, and asked if they would take a photo of Eric and me on the summit, before beginning our descent. From the summit, short but steep class 4 downclimbing led to an obvious notch at right. We descended the south side of the notch, lowering ourselves down a short vertical step by aiding off a 15-ft section of webbing tied to a bundle of rap slings. This happened to be the same set of rap slings, attached to the chockstone that Eric had noticed earlier; he was on-route after all!
Below the step, we climbed left out of the gully, and traversed back into another parallel gully before descending easily back down to the ledge where we had stashed our ice axes and crampons. From the ledge, we turned right this time, determined to avoid the loose and icy gully we climbed on the way up. The ledge turned into a descending ramp that traversed just above a snow patch, and ended in a talus slope at the right edge of the snow patch. Staying close to the snow, we descended talus, cutting back left a short distance on rock below the snow but above a cliff band. Once past the cliffs, we again descended more talus, before reaching the steep, soft snow in the bowl/cirque we had climbed up through a few hours earlier. From here, we retraced our footsteps back over to the Redoubt Glacier and ultimately back down to camp.
The climb took us about 8 hours round-trip, and yet we still had that nagging 3-hour hike back down to the car and ensuing drive back to Seattle, not to mention the border crossing. As if we hadn't had enough excitement for one day, we were nearly run over by a couple ATVs minutes after returning to the car. I particularly enjoyed the cloud of dust they left behind for us. We soon found ourselves at the border, quietly wondering if the customs agent was getting paid enough to bother looking though our sweaty and smelly gear. We told him we had been "hiking near Slesse", but he appeared more interested in whether or not we were transporting any beef. We were not, and so he let us go. We drove off and soon entered a plastic yet all too familiar world of strip malls and fast food. Ahh...the scourge of modern American civilization. But wait, is that a McDonald's I see over there...
Click
here
to view photos.