Mount Spickard (South Ridge) & Mount Redoubt (Redoubt Glacier), August 2003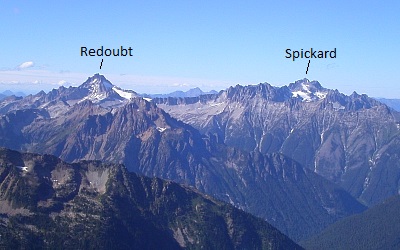 Ever since stumbling upon Darin Berdinka's (website no longer active) detailed account of Mount Redoubt's Northeast Face, I have been itching to experience the classic snow and ice route for myself. Furthermore, with Mt. Redoubt's distinct pyramidal shape with diamond-shaped snow patch on its South Face so clearly visible from many distant North Cascades summits, I was helplessly compelled to explore this remote and mysterious peak. Apparently so too was Eric Hoffman, who graciously picked me up in Seattle at 4am and then drove north across the USA-Canada border. Though Mt. Redoubt is located in the North Cascades National Park, the trailhead and first mile or so of the Depot Creek approach starts in British Columbia. Eric and I also agreed to forego Redoubt's Northeast Face as recent reports suggested the route was already out of shape, thanks to the unusually high temperatures this summer and low snow year. Instead, we settled on climbing the Redoubt Glacier/South Face of Redoubt (the standard route, or the descent route for those climbing the NE Face) with the option of attempting Mt. Spickard after dropping overnight gear at Ouzel Lake camp on the day of our approach.
To get to the trailhead, drive to Rte. 1 via the border crossing of your preference (given our early departure, we assumed the Sumas crossing would still be closed and so entered Canada via the Cloverdale/truck crossing). Drive east on Rte. 1 to Exit 119a (Vedder Road). Continue south through Chilliwack for about 3.4 miles and take a left on the Chilliwack River Road, immediately before crossing the Chilliwack River Bridge. Follow this road for 31 miles, eventually skirting the northern, then eastern shore of Chilliwack Lake. Take a left (2nd left after reaching lake, I think) and proceed steeply uphill on an unmarked spur road that heads up the Depot Creek Valley. If you reach a large, orange steel bridge you have just missed this spur road. The Depot Creek "road" is very rough and somewhat overgrown and will test your suspension and ground clearance, not to mention the number it does on the paint job (4x4's highly recommended!). Follow the "road" for 1.7 miles, staying left at forks, to a large clearing. Park here, noting a small bridge visible 100 yards down the right fork from the clearing. (
more...
)
Click
here
to view photos.