Mount Ritter - Southeast Glacier, July 2010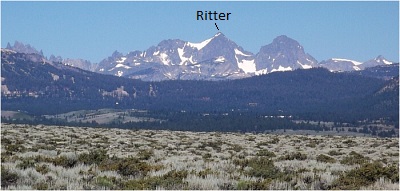 My early exposure to the mountain subrange that makes up Mount Ritter, Banner Peak and the Minarets was through ski/snowboard magazines and videos filmed at the nearby Mammoth Mountain ski area. Sure, the cork 540 over the 60-footer was sick and all, but I always found the intriguing crest of peaks dominating the background to be incredibly distracting. Many copies of Transworld Snowboarding later and as many years would go by before I actually pieced together where exactly on the continent the fascinating Ritter Range, as the subrange is called, lies. More time passed before my casual curiosity evolved into something a bit more, say, academic at which point I finally discovered two names - Banner and Ritter. Being the taller of the two, Ritter was eventually added to my "list" of things to climb should I ever find myself venturing into the High Sierra. High Sierra Author, R.J. Secor's assertion that Ritter may be the most prominent peak in the Sierras certainly helped reinforce my desire to scale the peak's uncharacteristically loose (for the Sierra) rock. I was also surprised to learn that for a hundred years or so Mount Ritter appeared behind Half Dome on the Sierra Club emblem. I can't seem to find any evidence of Ritter on the current version of the logo though, so don't go calling me out on this detail please. Nevertheless, of all the iconic peaks in the range this one seemed like it wasn't to be missed!
It was not until the scenic drive south from Lee Vining, detouring briefly through June Lake (another ski area from my TWSnowboarding past) en route to Mammoth Lakes, that it dawned on me how volcanic this region is. In a vast mountain range famous for its abundance of high quality golden granite, I suddenly found myself in a volcanic oasis of pumice, basalt and lava that would not be out of place back in my PNW home turf. Mono Lake, the neat line of volcanic domes and vents that stretch south to Mammoth Lakes and culminating with the Ritter Range itself - all are the result of volcanic forces at play. Even the 11,053-foot "hill" that is the ski area could be considered an active volcano of sorts. This hill apparently still emits hazardous gases that kill trees as well as the occasional ski patroller. There's also the Devils Postpile National Monument nearby with its stunning display of columnar basalt to further remind us of the molten rock that boils not far beneath the surface. And if that wasn't enough, let's not forget the irrefutable evidence of a fault line that lies just on the outskirts of town. It's now a bit of a tourist attraction, but suffice to say if word of deadly odorless gasses don't make your ears perk up then a repeat of the earth shaking that caused this random fissure to spontaneously appear certainly might. (
more...
)
Click
here
to view photos.