Ruth Mountain - Ruth Glacier, February 2003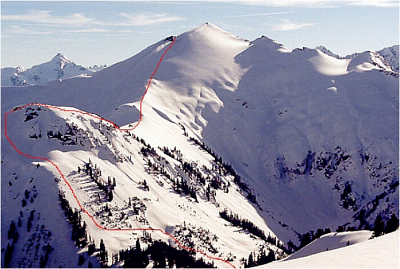 I was in need of some good quality snow, better than that encountered on my recent descent from The Castle. I was to be pleasantly surprized. The snow was probably the best that I've ridden this season, and that home-made splitboard of mine really does work well. Like the previous outing on The Castle, Paul and I also welcomed the idea of visiting a corner of the Cascades where we had not yet ventured. For Jerry, on the other hand, this would be his fourth trip to Ruth Mountain. Thankfully, the weather proved to be remarkably sunny and calm and the views promised to be nothing short of spectacular. Be sure to bring lots of film, batteries, or a high capacity memory card when climbing Ruth Mountain!
We were able to drive within less than half a mile from the Hannegan Pass trailhead in a VW Golf--a testament to the unusual absence of snow in the lower elevations, courtesy of El Nino. Paul started out the approach on AT gear he had borrowed from me, while Jerry after some struggling with his Silvretta bindings, managed to damage them beyond repair and had to then resort to using snowshoes (which he never ended up wearing). Later, Paul generously offered the skis to Jerry as the absence of snow on the trail, particularly in the trees, made for tedious travel. (
more...
)
Click
here
to view photos.