Mount Shasta - Avalanche Gulch, June 2010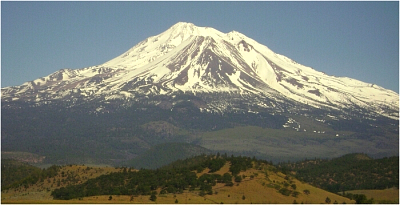 Tired of the recent weather and needing a change of scenery, I decided it was about time for a road trip down south where I was hopeful to find some sun and corn snow. First up on my volcano-bagging agenda was Mount Shasta and being that I was flying solo, just the standard Avalanche Gulch route would do. The big draw of course would be the ride down off of the summit, or more accurately from somewhere above the infamous Red Banks. Alas I only 'boarded Shasta back to the car from Lake Helen camp (10,400ft to ~ 7000ft) as the upper mountain was way too firm and windy for my taste and I was in no mood for getting knocked around with a couple sails on my back. With the snowpack reportedly 140% of average and conditions unseasonably cool and icy, I was content just with completing the route on foot. Though the winds subsided somewhat in the afternoon, the icy slopes from about 11k and upwards weren't going to soften anytime soon.
Predictably, a shit-show of epic proportions was well underway on that long slope below the Red Banks by the time I emerged from my tent around 6am on summit day. At least 40 parties camped at Lake Helen the night before, almost all of which posessed little to no prior mountaineering experience. With no less than three ice axes either skittering down the firm snow or miraculously stuck upright in the ice, followed by a couple trekking poles, an empty water bottle, a backpack and yes...inexplicably...THREE (live) bodies zipping on by, I began to wonder if I wasn't in fact still dreaming. Later that afternoon another person was apparently also pelted by falling ice and suffered a broken leg. In all 3 climbers had to be evacuated by helicopter. I tried to explain the benefits of using the ice axe leash to one of the people I saw retreating below the Red Banks that morning, but my efforts were mostly lost on him. Most if not all of the retreating parties did so because of the strong winds in the viscinity of the Red Banks. Of all the parties, only about 3 or 4 made it to the summit that day myself included. (
more...
)
Click
here
to view photos.