Mount Shuksan - North Face, July 2002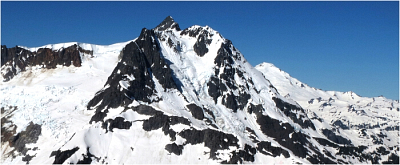 After having been spanked by the mountain last June, Tom and I were more determined than ever to successfully summit Mt. Shuksan. It would be Tom's 3rd attempt and my 5th. Upon driving back down from the upper Mt. Baker ski area last June, Tom and I had the opportunity to get a good look at the North Face and decided then that it would be our next route up the mountain. With a favorable weather forecast for a late July weekend, Tom and I set out to climb the mountain once again. We were in for a rude awakening and I simply cannot put into words how horrific the bushwhacking really was.
Starting at the lower ski area lodge, we took a left spur leading away from the gravel road, crossed a short bit of clearcuts before reaching some trees. After that, things started to get interesting. I had difficulty negotiating the initial creek crossing and thrashed uphill looking for an easy place to cross. In the end, after about 45 minutes of thrashing through brush, we found ourselves back on the ski run (chair 8), only paces from where we started. I was frustrated, my motivation waning and if it weren't for Tom's protest, I'd just as well have gone and climbed the Fisher Chimneys instead.
Tom decided to take the lead on our second attempt to battle the brush. This time we opted to look for a creek crossing by working downhill. Success!! We wound up crossing about 5 or 6 creeks...all with similar difficulty. We pulled, clawed, thrashed and sometimes swam our way through the thickest slide alder, devil's club and wild rose that I have ever seen. Eventually, after several hours, we emerged from this primordial jungle onto a large snow field. Lunch time at last! We unfortunately had yet to endure another large patch of brush in order to gain the upper White Salmon basin. By the time we reached snow again, there wasn't a square inch of skin on my legs that wasn't scratched by the brush. Suffice it to say, I was convinced that I would not return this way!
We hiked up snow and scree to the saddle below the North Face and got our first partial view of the route. Though it was clear overhead, clouds were building all around us. This was not a good sign. We set up camp at on a heathery bivy site a few feet from a precipitous drop into the silty Price Lake. The North Face looked to be in good shape and spirits were high. I glanced over my shoulder and clouds were now spilling over Shuksan Arm. Definitely not a good sign! Clouds would soon engulf our high camp. Tom and I postulated that the clouds were merely a product of moisture condensing out of the air with the cooling brought on by nightfall. We retired for the night, hopeful that morning would bring a clearing. I poked my head through my bivy at around 12:00 that night and saw a starlit sky. It looked as if our hopes would be answered this time. Unfortunately, the clouds were here to stay and we awoke that next morning to a complete whiteout. Why can't they ever forecast Mt. Shuksan weather accurately?! We were NOT happy.
Nevertheless, we made a half-assed attempt to climb the face and see how far we had to climb to break out of the top of the clouds. We hoped to be able to break through the clouds within a 1000ft or so. We wound up navigating around a few crevasses and plodded on in what I assumed was the correct direction. The whiteout showed no sign of thinning out, and I was once again losing interest. Tom really wanted to go for it. I was concerned about finding our way back down in these conditions. Neither of us had any desire to relive the bushwhack we had gone through the day before. Having resigned ourselves to our fate, we began returning the way we came, wholly unenthusiastic about what we were about to endure for the 2nd time. After descending through the initial patch of slide alder, we emerged back onto a snowfield and hiked up towards a series of snow-filled creek beds that angled upwards on Shuksan Arm. We were able to avoid the worst of the brush by going high and traversing just below Shuksan arm till we were about 1200ft above the ski runs. It was now raining and we had to negotiate tricky canyons and cliffy terrain in order to descend back into the valley and make the short hike back up the other side onto the ski run. Despite the unpleasant nature of our retreat, I was continuously awed by the lush density of the vegetation in this area.
We walked down steep heather slopes now made greasy by the rain. Unable to make contact with the ground below the heather we both slipped and fell a couple of times and barely managed to arrest our fall before sliding uncontrollably over a cliff. Time for crampons! We finally emerged back onto the ski run, breathed a collective sigh of relief and asked ourselves, what is it with this f@#king mountain anyway? We swore only to return when the weather forecast showed nothing less than 4 pulsating orange balls. Any attempt on the North Face would also have to wait for earlier in the season when most of the brush is still buried by snow. I guess now it's back to the Fisher Chimneys again.
Click
here
to view.