Mount Shuksan - North Face, July 2002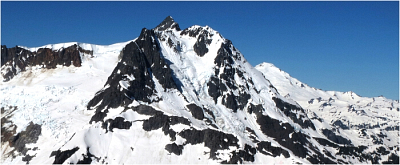 After having been spanked by the mountain last June, Tom and I were more determined than ever to successfully summit Mt. Shuksan. It would be Tom's 3rd attempt and my 5th. Upon driving back down from the upper Mt. Baker ski area last June, Tom and I had the opportunity to get a good look at the North Face and decided then that it would be our next route up the mountain. With a favorable weather forecast for a late July weekend, Tom and I set out to climb the mountain once again. We were in for a rude awakening and I simply cannot put into words how horrific the bushwhacking really was.
Starting at the lower ski area lodge, we took a left spur leading away from the gravel road, crossed a short bit of clearcuts before reaching some trees. After that, things started to get interesting. I had difficulty negotiating the initial creek crossing and thrashed uphill looking for an easy place to cross. In the end, after about 45 minutes of thrashing through brush, we found ourselves back on the ski run (chair 8), only paces from where we started. I was frustrated, my motivation waning and if it weren't for Tom's protest, I'd just as well have gone and climbed the Fisher Chimneys instead. (
more...
)
Click
here
to view photos.