Silver Peak - West Face/North Slope, February 2008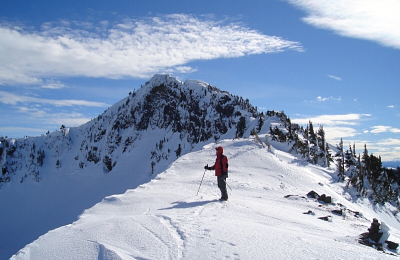 "My goddam toes are going to be beat to a pulp after this garbage" I bitched to Andy. Why I didn't listen to my own advice and bring a pair of crampons I don't know. Above me, Andy was making steady, toe-friendly progress cramponing up the frozen West Face. What was I doing here? The tips of my well-worn modified PMBs were barely breaking the surface after repeated kicks, my feeble aluminum axe good for little more than balance. I needed to escape to softer snow.
Across the valley, the east slopes of Humpback Mountain were literally baking in the late morning sun. For sure there was soft snow to be found there; dangerously soft snow as evidenced by the numerous slide paths we had traversed over while skinning up the valley earlier in the morning. I would have happily traded that soft, and potentially unstable snow for deliverance from the pain and suffering. I kicked a couple more steps, grimaced and stopped for another rest. Glancing down into the crater-like Lake Annette, my eyes were drawn up towards the long ridge extending northward from Abiel Peak. Somewhere along that ridge was the summit of Humpback Mountain; the very summit from which I first spied today's enterprise - West Face of Silver Peak.
Ducking into a thin ribbon of trees near the left edge of the West Face, my prayers were finally answered with boot to knee-deep powder. It was an exhausting work, but I finally reached Andy waiting for me on the north shoulder of Silver Peak. We dropped our gear and scrambled the ridge to tag the summit. From its southern vantage point, Silver offers a unique perspective on the Snoqualmie Pass area peaks - similar, but better than the view from Humpback in my opinion. The snow on the north side of Silver seemed far more amenable to skiing than the West Face we had just ascended. Dare I say it even looked powdery...two-week old powder to be exact? The West Face would offer a longer, steeper descent, but would it ever corn-up in time? As if to help with our decision, the solo party ahead of us suddenly appeared from behind the summit rocks and began to ski, or should I say scrape, back down the face. The sound alone was painful to hear.
After a quick, and ultimately ill-advised decision, based solely on distant visual inspection, we figured we'd easily be able to loop back to our starting point from somewhere below Olallie Meadow. Having recently abandoned his knuckle-dragging ways, Andy dropped-in first. I followed shortly thereafter, and together we leap-frogged the upper-bowl, rollers, trees and eventually the low angle meadow crisscrossed by skate skiing tracks. We encountered a few inches of light pow over a firm, but smooth base up high, corn and a finally a light crust with occasional pockets of dust. Andy wasn't too hot about the crusty snow near the bottom, but all in all I found it to be an enjoyably casual descent.
Following a skate track to where it crosses a power line swath, which we hoped would guide us back towards the Lake Annette Trailhead, I was taken aback by how far away we still were from where we wanted to be. Re-growth choked the swath below us and I knew we had at least one steep-sided and potentially troublesome creek to cross. I called up to a party of snowshoers taking photos overlooking I-90 and the South Fork Snoqualmie River Valley from where the swath crosses the skate track and asked if they minded giving us a ride back to where we were parked. They agreed and together we made our way along the track back to the hilltop above The Summit's Silver Fir chair. We finished the day by skiing a Silver Fir piste and then waited a few minutes for our ride to arrive. Thanks!
Back at the car, we had just finished changing into dry clothes and were moments away from driving off, when suddenly a party of two on snowshoes hiking out from Lake Annette flagged us down. One of the guys produced a shovel handle from his pack and asked if it was ours. Indeed, I had apparently lost my shovel handle somewhere below the West Face! This was great news, good karma...a good day made even better! Almost good enough to forget about my throbbing toes.
click
here
to view photos.