Snoqualmie Mountain (Slot & Phantom), February 2008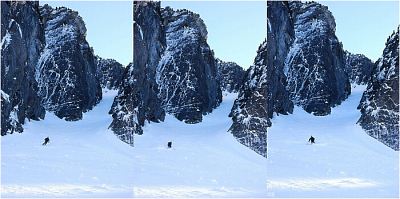 After a bout of rain and high freezing levels and then a good dose of sunshine, I was overjoyed at having sniffed-out some unexpected pow on shaded north-aspects in the Alpy b/c on Sunday, Feb. 17. Well, at least up high - the lower slopes sported that skied-out, re-frozen Sno-Crummy mank we've all come to hate. Nevertheless, I felt optimistic about the snow conditions on the north side of Snoqualmie Mountain and recruited Eli and Eric Henry into joining me on a President's Day ski/split descent of the Slot Couloir. I had last ridden this line back in 2002, and felt a return visit was overdue. Besides, with all the pass closures, courtesy of the record snow that has fallen primarily in the Stevens-Snoqualmie convergence zone during the past month, I do not see the point in driving any further for turns just yet.
Anyway, parking at the small parking pullout across from the Sessel Chair, Eli, Eric and I scampered up the snow bank and proceeded to skin towards the falls area beneath the Phantom Descent slope. We entered steep forest left of the falls and booted-up before re-skinning just above the falls. Following a still somewhat frozen skin track up the Phantom (ski crampons really helped) we navigated our way towards the Slot's entrance in good time and stopped for a bite and to assess the conditions.
Steep, bulletproof ice was the word, confirmed after observing both Eli and Eric nervously sidesliped down towards where the couloir doglegs to the left. Citing these less than ideal conditions, I passed and decided to simply ride back down to the saddle above the Phantom where my partners would again rendezvous with me on their way back from Snoqualmie's north basin. At the saddle, I met a party who had skied the Slot just before Eli and Eric; they were grinning from ear-to-ear, despite the icy snow conditions. Like me, however the party behind us decided to pass as well...YMMV I guess.
I lounged in the sun for a half-hour or so before being joined again by Eli and Eric. They confirmed what I had suspected - the rest of the descent was almost as icy and wind packed as it was up top, with the best turns being on the sunny apron below. By now the sun had turned the snow on the Phantom to perfect corn and we each savored the soft spring conditions, proceeding directly down the snow-choked falls for an easier-than-expected finish.
Click
here
for photos.