Snoqualmie Mountain (Slot & Phantom), February 2008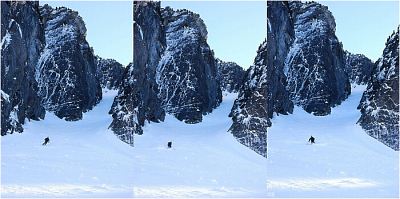 After a bout of rain and high freezing levels and then a good dose of sunshine, I was overjoyed at having sniffed-out some unexpected pow on shaded north-aspects in the Alpy b/c on Sunday, Feb. 17. Well, at least up high - the lower slopes sported that skied-out, re-frozen Sno-Crummy mank we've all come to hate. Nevertheless, I felt optimistic about the snow conditions on the north side of Snoqualmie Mountain and recruited Eli and Eric Henry into joining me on a President's Day ski/split descent of the Slot Couloir. I had last ridden this line back in 2002, and felt a return visit was overdue. Besides, with all the pass closures, courtesy of the record snow that has fallen primarily in the Stevens-Snoqualmie convergence zone during the past month, I do not see the point in driving any further for turns just yet.
Anyway, parking at the small parking pullout across from the Sessel Chair, Eli, Eric and I scampered up the snow bank and proceeded to skin towards the falls area beneath the Phantom Descent slope. We entered steep forest left of the falls and booted-up before re-skinning just above the falls. Following a still somewhat frozen skin track up the Phantom (ski crampons really helped) we navigated our way towards the Slot's entrance in good time and stopped for a bite and to assess the conditions. (
more...
)
Click
here
to view photos.