Tomyhoi Peak - Yellow Aster Meadows, August 2003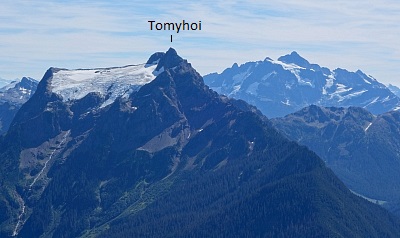 As we were driving back to Seattle after a successful Mount Olympus trip, Eric asked me for some suggestions for a peak he could take a couple of novice climbers (Chris Mattson and Chris Shultz) up the following weekend. The South Route of Black Peak was mentioned, along with several others that I no longer remember. After some thought, I suggested Tomyhoi peak, adding that the climb is generally very easy but also very rewarding. The views, I heard, are also definitely worth the effort. Besides, with the possibility that I might join Eric and company on their outing, I wanted to promote a climb I haven't already been on.
I first became aware of Tomyhoi Peak after reading Matt Robertson's detailed and inspiring account (I don't know him personally, but I think he works on the same floor as I do). I really like the intro picture: the North Face as seen from Chilliwack, B.C. Anyway, views of the peak from prior climbs up Mount Shuksan further reinforced my interest in climbing Tomyhoi. Though never really high on my list of climbing objectives, Tomyhoi Peak makes for an easy, stress-free day trip-a perfect outing for those recovering from a 40-mile round-trip journey in the Olympics! "I'm in, pick me up," I told Eric over the phone a day before the climb.
In Bellingham, we turned off I-5 onto Sunset Highway (Highway 542) and continued to the DOT Shuksan Facility, about 14 miles east of Glacier. Immediately beyond the maintenance facility we turned left on Twin Lakes Road (FSR 3065), arriving at the Gold Run Pass Trailhead in about four-and-a-half miles. We arrived around 9:00am and found a mess of parked cars at the trailhead. The profusion of B.C. license-plates reminded me that all provincial parks and forests in British Columbia had been closed in reaction to the extreme fire conditions there, not to mention the countless fires that were already burning.
We started up the easy Gold Run Pass Trail (FST 686) and hiked for about 2 miles to the junction with the new trail to the Yellow Aster Butte area. This new trail is not shown on most maps. The Keep Cool Trail (FST 699) has now been abandoned. We continued toward Yellow Aster Butte on the new trail (FST 686.1). The trail makes a long traverse then a short, steep descent to the many tarns that dot the gentle meadows below Yellow Aster Butte. The views of Mount Baker and Mount Shuksan from here are superb. I couldn't help thinking this location would make for an ideal girlfriend friendly camping destination.
From the tarns we spotted an obvious trail leading toward the broad ridge southeast of Tomyhoi Peak. On the ridge crest we were rewarded with stunning, up-close views of Mount Larrabee, American Border Peak (right), and Canadian Border Peak (left). The trail climbs through heather and talus before dropping steeply into a large, deep notch. Climbing back out of the notch on the other side, the trail ascends more heather, then scree and gains the ridge crest again, before dropping to a small saddle (summit crags visible directly ahead). A brief jog on the left-side of the saddle, then back right for one last ascending traverse on scree, brought us to a rocky ledge above the glacier (there really isn't much of a glacier to see from here). A short descent in a loose gully leads to the glacier's edge. We must have walked on the flat upper margin of the glacier alongside a small moat for no more than 100 feet, myself wearing only running shoes and using trekking poles for balance. We gained the rocky ridge, again, at a small notch.
Some scrambling on rock, a bit of trail, and then a short descent into yet another notch found us below the final rock wall that guards the summit. From here, the 3rd-class scramble to the summit looks harder than it actually is. We scrambled up somewhat steeply to the ridge crest again and continued climbing on the exposed but very easy crest to the true summit (an easier route ascends rubbly ledges on climber's left of the ridge). It was a warm day on the summit, and, despite the haze, views were indeed exceptional. Ok, the clear-cuts in the valley below, just across the border, weren't exactly inspiring. Still, it was a different view from up there. We could look down over the broad Fraser River Valley, catch distant glimpses of Mount Garibaldi and what we speculated was Mamquam Mountain, and, closer yet, Robie Reid. Looking to the ESE, we could easily make out the jagged spine of the Northern Pickets, the mighty Challenger Glacier, and countless other peaks in between.
After descending back to the tarns, we decided a quick swim was in order. The water was cool, but very refreshing. I wanted to hangout for a bit, but the others were already dressed and itching to head back down. I reluctantly dried myself off and chased after Eric and both Chris's. We reached the car again in about 7 hours round-trip. Yep, Tomyhoi is an enjoyable hike, with, and I quote Eric here, "...great views, generally easy terrain and completed with a fun, exposed scramble that reminds you that this is a climb."
Click
here
to view photos.