Tomyhoi Peak - Yellow Aster Meadows, August 2003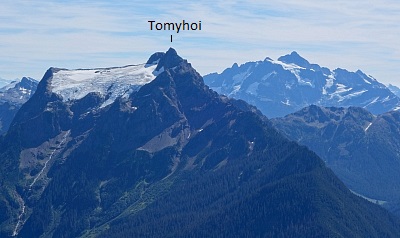 As we were driving back to Seattle after a successful Mount Olympus trip, Eric asked me for some suggestions for a peak he could take a couple of novice climbers (Chris Mattson and Chris Shultz) up the following weekend. The South Route of Black Peak was mentioned, along with several others that I no longer remember. After some thought, I suggested Tomyhoi peak, adding that the climb is generally very easy but also very rewarding. The views, I heard, are also definitely worth the effort. Besides, with the possibility that I might join Eric and company on their outing, I wanted to promote a climb I haven't already been on.
I first became aware of Tomyhoi Peak after reading Matt Robertson's detailed and inspiring account (I don't know him personally, but I think he works on the same floor as I do). I really like the intro picture: the North Face as seen from Chilliwack, B.C. Anyway, views of the peak from prior climbs up Mount Shuksan further reinforced my interest in climbing Tomyhoi. Though never really high on my list of climbing objectives, Tomyhoi Peak makes for an easy, stress-free day trip-a perfect outing for those recovering from a 40-mile round-trip journey in the Olympics! "I'm in, pick me up," I told Eric over the phone a day before the climb. (
more...
)
Click
here
to view photos.