The Tooth - South Ridge, June 2002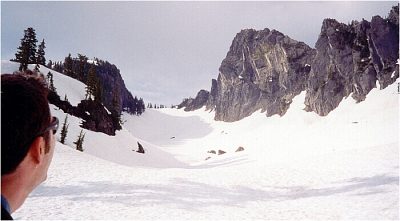 Capitalizing on an opportunity for some alpine rock climbing instruction, I took Andy up on his offer for a climb of The Tooth. Finally with a fair weather Friday to burn in June, something simply had to be climbed. Conditions seemed ideal for a trip to climb The Tooth and so The Tooth it was!
We caught up with a group of Tacoma Mountaineers and chatted casually on our way up to the base of the Tooth. They were kind enough to let us go first as we were only a party of two and so would be able to move faster than them. The first couple pitches provided some enjoyable climbing. Pitch three, if it can even be called that, was just a short walk to the base of pitch four. We opted for the 5.6 variation instead of the easier but more exposed Catwalk to our left. The summit was reached sooner than expected. The views of the surrounding peaks were, as always, very nice. We hung out and soaked in the rays for a bit. The climb was short but enjoyable. This would be a great short winter climb!
Click
here
to view photos.