Wapta Icefields Traverse - Bow Lake to West Louise Lodge, March 2006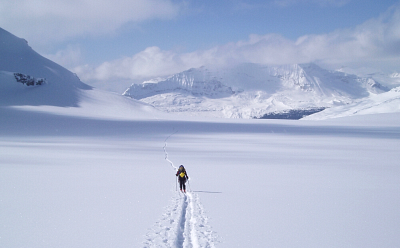 It's traverse season again, and this time without Jerry or Eric, Bo and I were on our own to navigate the Wapta and Waputik Icefields. "Where and what the hell is that", you might be wondering, well, I'm glad you asked! The Wapta Traverse is a hut-to-hut ski tour in the Canadian Rockies. Covering two major ice fields along the Continental Divide between Alberta and British Columbia, the trip usually starts at either Peyto or Bow Lake (we started at Bow Lake) and ends somewhere along the Trans-Canada Highway (either at West Louise Lodge or Kicking Horse Pass near Field, BC). Probably North America's best answer to the world renowned Haute Route in the Swiss Alps, the Wapta and neighboring Bow-Yoho Traverses, with its network of five cozy backcountry huts, offers visitors unparalleled ski terrain, breathtaking scenery and of course the comparatively luxurious comfort of the ACC's fine tradition of backcountry huts. These huts come stocked with padded bunks, outhouse facilities, propane stoves and lighting (fuel is provided), and in the case of Bow hut, also a wood-burning fireplace. Though they aren't free, the $25 - $20CAD/night fee (depending on hut) is a small price to pay for the convenience of a light pack and a roof over one's head...especially when there's a storm is raging outside!
After a short Vancouver - Calgary flight, I hopped on the Banff Airporter shuttle, which I had pre-arranged, for the near 3-hour drive to Banff. While the poor bastard behind me sprawled out on the rear bench and proceeded to writhe and fidget in what smelled to be alcohol-induced misery, I looked out the window upon a bleak and uninspiring scene of flat, foggy, treeless 'tundra' with high density suburban housing spreading out across the prairies like an infestation of termites. I rendezvoused with Bo at Banff's Hidden Ridge condos, where he had been on ski holiday for the week prior with family and friends. Bo must have been skiing like a maniac before my arrival, for when I arrived I found him pale and running a 100+ degree fever. Shit! During dinner that night, Bo's parents did their best to dissuade us from embarking on our silly traverse, but we stuck to it like a bad habit. The fact that I had a GPS seemed to allay some of the worries...never mind the fact that I had no idea how to use it, much less know how to input grid points, but more on that later. (
more...
)
Click
here
to view photos.