White Chuck Mountain - Northwest Route via White Chuck Glacier, June 2006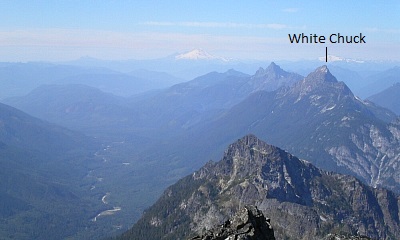 Having read a thread on Cascade Climbers dot com some time ago describing White Chuck's Northeast Ridge as an appealing route reportedly with the potential for being a local classic, I felt compelled to check it out for myself. For Paul, the allure had more to do with ticking off a peak from his prominence list, though he too expressed interest in the route. We recruited Jeff to join us on the climb who having been up the standard route once before, seemed content with exploring a different line on the mountain.
We departed from Seattle early on a sunny June morning - a day where the forecast called for afternoon thunderstorms. Proceeding north from the Darrington corner gas station, we turned right onto Sauk Prairie Road and continued for approximately 2 miles (crossing over the Sauk River just south of the mill) before turning right onto FR 2400 (Dan Creek Road). Following this road for several miles, we turned left (north) at a junction near the head of the valley onto FSR 2430. In another half mile, we took the right fork onto FSR 2435. Ignoring a few spur roads here and there, we stayed on FSR 2435 and soon gained an open, logged-off ridge crest extending northwest from White Chuck's Northwest Peak. We followed the road along the spine of the crest until stopped by snow at about 4,600 ft. The view from this location is impressive - Whitehorse, Pugh, Bedal, Sloan and much more. With the beer stashed in a snow bank on the edge of the road, we proceeded to kick steps up to a saddle just above where the road normally ends. (
more...
)
Click
here
to view photos.