Whitehorse Mountain - Whitehorse Glacier, June 2006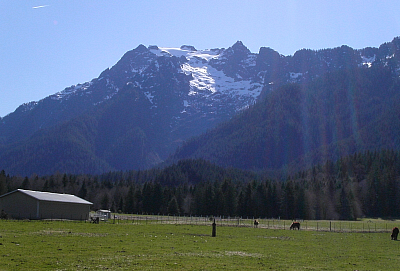 In early June 2006, a mob of seven, including Jeff R, Paul K, Julian S, Martin S, Ed M, Mark S and myself, braved the brush on the approach to Whitehorse Mountain's distinctive north-facing Whitehorse Glacier. Generally better climbed earlier in the Spring (or Winter), on account of snow hopefully still covering most of the brush below the glacier, this year's above average snow pack helped extend the season on this route. Make no mistake, however, the bushwhacking was still what I consider most annoying. Starting with a slippery log crossing, we quickly dove into the brush left of the creek and encountered a bit of everything ranging from Slide Alder, Devils Club, Wild Rose, Salmonberry, ferns, moss and just about everything in between. As if that wasn't bad enough, a navigation screw up while descending forested slopes beneath Lone Tree Pass had me swimming through an impossible sea of Slide Alder in order to re-join my party hiking down the Niederprum Trail back to the cars. Ugh!
In the end, I found this to be a rewarding route with relatively easy climbing on soft snow (we never donned our crampons) and with exciting snow slabs/steps where the seasonal snow pack had peeled away from slabs beneath. There was only one steep snow slope/traverse worth noting, above which a short rock wall and moat topped with the aforementioned snow slab that gave us a bit of difficulty. Beyond that, it was easy slogging to the final bit of exposed rock on the summit tower (crux). This being my second time on Whitehorse (previous report here), I'm quite sure that there aren't any Bulgarian fugitives living on the mountain anymore, I still haven't seen High Ice (filmed on the mountain), and Darrington is still definitely no Chamonix. (
more...
)
Click
here
to view photos.